Kontakt
Presse, Kommunikation und Marketing
Tel.: +49 228 833-144
Fax: +49 228 833-441
presse[at]avh.de
Working in collaboration with 12 cultural and scientific institutions in Berlin-Brandenburg, the Alexander von Humboldt Foundation is launching a joint information platform revolving around activities to commemorate the 250th birthday of Alexander von Humboldt.
On 14 November 2018, the diverse activities being organized by a group of 13 cultural and scientific institutions to celebrate the 250th birthday of Alexander von Humboldt during the coming 2019 Humboldt Year were presented in Berlin.
The participating museums, universities, libraries, academies and research institutions will dedicate numerous events to the important explorer and researcher as highlights in the Berlin-Brandenburg region in 2019.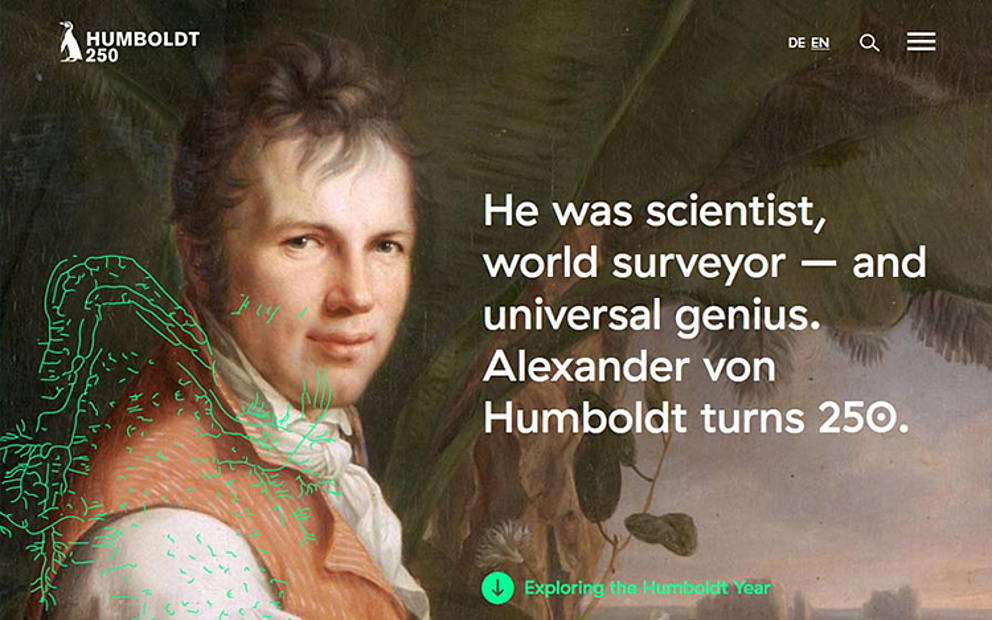 A central platform at www.avhumboldt250.de is the place to go for information about all exhibitions, scientific conferences and events revolving around Alexander von Humboldt that are being organized by participating institutions in 2019. A comprehensive calendar of events provides information about upcoming activities in the Anniversary Programme and offers tips about key scientific and cultural topics and news pertaining to the jointly organized theme year. New events and activities will be added to the calendar on an ongoing basis.
"Being a cosmopolitan, Alexander von Humboldt was at home in many places. However, Berlin always played an important role in his life. To commemorate his 250th birthday, we will trace Alexander von Humboldt's footsteps in Berlin with events, exhibitions and much more. Thirteen partner institutions will be collaborating and making contributions to this – in keeping with the example of Alexander von Humboldt, the networker", said Dr Enno Aufderheide, Secretary General of the Alexander von Humboldt Foundation, at the presentation of the joint initiative.
The participating organizations:
Alexander von Humboldt Foundation, Berlin-Brandenburg Academy of Sciences and Humanities, Botanischer Garten und Botanisches Museum Berlin, Deutsches Historisches Museum, Humboldt Forum in the Berlin Palace, Humboldt-Universität zu Berlin, Ibero-Amerikanisches Institut Preußischer Kulturbesitz, Berlin's Museum of Natural History, German National Academy of Sciences Leopoldina, Staatsbibliothek zu Berlin Preußischer Kulturbesitz, Stadtmuseum Berlin, Prussian Palaces and Gardens Foundation Berlin-Brandenburg, University of Potsdam
Alexander von Humboldt
Born in Berlin on 14 September 1769, the natural scientist and polymath Alexander von Humboldt turned his back to his hometown for years, occasionally made disparaging remarks about the Prussian capital and lived in Paris for 25 years. However, after returning to Berlin in 1827, he made significant contributions to building up Berlin's international relations and overhauling scientific institutions. Despite his elevated position as royal chamberlain, member of various academies and honorary citizen of the City of Berlin, Humboldt addressed a broad public and held lectures for the people of Berlin. Thanks to his exploration of the natural environment, peoples and cultural history of the areas he visited, Europe gained not only a new view of America which he shaped with lasting effect – but also impulses to rethink global relations and world trade as well as colonialism, slavery and global humanity.
For further information regarding individual activities and events please contact the press offices of the respective institutions directly.
The Alexander von Humboldt Foundation
Every year, the Alexander von Humboldt Foundation enables more than 2,000 researchers from all over the world to spend time researching in Germany. The Foundation maintains a network of well over 29,000 Humboldtians from all disciplines in more than 140 countries worldwide – including 55 Nobel Prize winners.