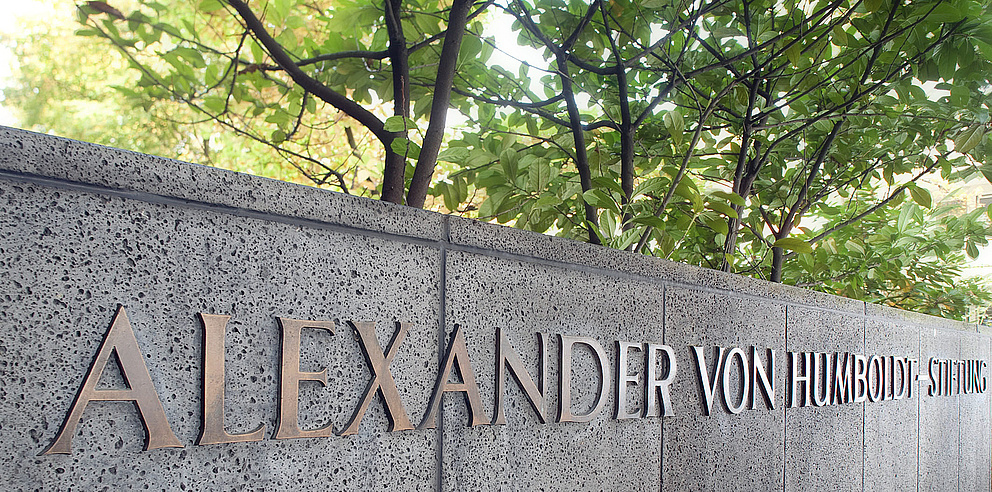 Who we are
The Alexander von Humboldt Foundation is a non-profit foundation established under private law by the Federal Republic of Germany. It sponsors international exchange amongst researchers, financed by the German government. We – that is some 270 staff in our headquarters in Bonn and our foundation office in Berlin as well as over 30,000 Humboldtians (the Humboldt Foundation's fellows and award winners) in more than 140 countries, including 59 Nobel laureates.
We are looking for you
Are you looking for an interesting, varied job in an internationally recognised environment? Apply to the Humboldt Foundation! Search for current vacancies on our job opportunities page (in German only). If you would like us to keep you updated on job vacancies, you can register for our job opportunity emails.
The Humboldt Foundation supports the Diversity Charter, promotes diversity in the workplace and thus welcomes all applications irrespective of ethnic, cultural or social background, age, religion, beliefs, disability or sexual identity.
What we expect from our team
Personal skills

Motivation
Independence
Decisiveness
Innovativeness
Confidence
Strong customer and service orientation
Intercultural competence

Social skills

Ability to communicate
Negotiation skills
Ability to handle conflict
Ability to work in a team

Methodical skills
Problem-solving skills
Leadership skills

Delegation skills
Supporting and developing employees
Leading teams
Target-setting and planning skills
Personal skills

Motivation
Diligence
Willingness to learn
Confidence
Strong customer and service orientation
Intercultural competence

Social skills

Ability to communicate
Ability to work in a team

Methodical skills

Problem-solving skills
Self- and time management
Ability to implement ideas
How to apply
At the end of every job posting on the job opportunities page you will find a link to the online application form (Data privacy statement for online applications). You will be able to retrieve your application or add attachments at any time. Specific information is included in the form itself.
You will receive a short email confirming that we have received your application. After receiving the confirmation, we kindly ask you to check your spam / junk folder regularly, as emails from our eRecruiting system are classified as spam by some providers. If you are shortlisted for a position, we will send you an invitation by email. At the Humboldt Foundation, all applications are subject to a standardised selection process which means we can guarantee that candidates are selected professionally and carefully.
Please understand that we prefer to accept and process applications via our e-recruiting system. In the case of an e-mail or paper application, please quote the exact position as advertised and include a declaration of consent on the electronic processing of your data. This is the only way we can file your application correctly and proceed with processing.
What we offer
Collective wage agreement (TVöD Bund), bonuses and occupational pension scheme
Education and further training
Flexible working hours and teleworking
Job ticket for concessionary travel on public transport
Occupational health management and sports club
Work-life balance and family-friendly policies
Direct communication and motivating atmosphere
Promotion of Germany as a research location in an international environment
Work in the Humboldt Foundation is diverse and challenging. We use a process-oriented approach and have been certified accordingly, enabling us to combine our ambitious goals with the greatest possible security and flexibility for the Foundation's entire team. We pay our staff according to the current version of the collective agreement for public service employees in the federal administration. You can also expect additional benefits such as a job ticket for concessionary travel on public transport and an occupational pension scheme. See the following overview for a detailed description of all the benefits we offer:
As an organisation funded by the Federal Foreign Office, the Alexander von Humboldt Foundation remunerates its staff in accordance with the collective agreement for public service employees (Tarifvertrag für den öffentlichen Dienst, TVöD) as applicable to employees in federal administration. You can find this wage agreement online e.g. at the following link.
The scale wage depends on the wage group covering the respective role. This information will be provided in the specific job posting. You can find the current remuneration table at the following link. Employees may also receive a bonus payment.
In addition to the scale wage, employees may receive performance-based payments in the form of a performance bonus that depends on their systematic performance ratings and achieved targets. 1% of the annual salaries of all employees is currently available for performance-based pay.
The first six months of your employment contract will generally be considered a probation period.
The Alexander von Humboldt Foundation participates in the Pension Institution of the Federal and State Governments (Versorgungsanstalt des Bundes und der Länder, VBL) and insures its employees there to establish occupational pension entitlements. The employee contribution to this insurance currently amounts to 1.71 % (VBL West) or 3.5 % (VBL Ost) of gross salary. Since 1 August 2011, we have moreover been cooperating with VBL to offer our employees the option to establish complementary occupational pension entitlements (personal provision) by way of deferred compensation.
The Foundation offers all its employees regular education and further training courses in a wide range of fields:
Project management
Quality management
Budget and funding law
HR law
Procurement law
Conflict management
Moderation or presentation techniques
...
In addition, we offer further training courses specifically for executives as well as IT training courses. Employees may also apply for further training courses tailored individually to their needs.
The standard working time for full-time employees is 39 hours per week. The Alexander von Humboldt Foundation has introduced a flexitime system, numerous part-time options and teleworking within Germany to enable employees to schedule their working hours flexibly and individually. Working hours are recorded electronically between 6 a.m. and 9 p.m. In general, all employees should be contactable during the core hours from 9:00 am until 12 noon. The core hours specified for the respective part-time model apply to part-time employees as a rule. Generally speaking, the individual's actual working hours should be coordinated within the respective department to ensure that the department is operational and the individual employees can be contacted as necessary.
The Humboldt Foundation pursues a staffing policy that takes account of the various stages of (family) life. For instance, we offer flexible working hours and many different teleworking options. Our efforts were endorsed by berufundfamilie Service GmbH, which awarded us the audit berufundfamilie (work and family audit) certificate in 2019. Visit the brief outline (PDF, in German only) information on the certificate and our approach.
We have developed an extensive occupational health management for our staff. In 2018, we were consequently granted the "Healthy Workforce" certificate by the Corporate Health Initiative, the leading quality initiative for sustainable occupational health management in the German-speaking countries.
As an employee of the Alexander von Humboldt Foundation, you, your family and friends can become members of the Betriebssportgemeinschaft der Bonner Wissenschaftsorganisationen, which offers a wide range of sports, from strength and endurance sports through team sports to meditation, as well as other activities such as health days and athlete parties or the option of booking a massage. More information, including on the individual types of sport on offer, can be found on the website of BSG Wissen at http://bsg-wissen.de/de/.
Becoming a member is worthwhile, as membership in BSG Wissen can be confirmed in your health insurer's bonus booklet. Membership costs €12 per year (some sports may attract an additional fee). New members are always welcome!
Employees are eligible to purchase a VRS job ticket or DB ticket for concessionary travel on public transport in the region.
As per the applicable wage agreement, employees of the Alexander von Humboldt Foundation are entitled to 30 working days off per year. Holiday entitlement will be calculated for each individual on the basis of their weekly working hours and the duration of their contract.