Kontakt
Presse, Kommunikation und Marketing
Tel.: +49 228 833-144
Fax: +49 228 833-441
presse[at]avh.de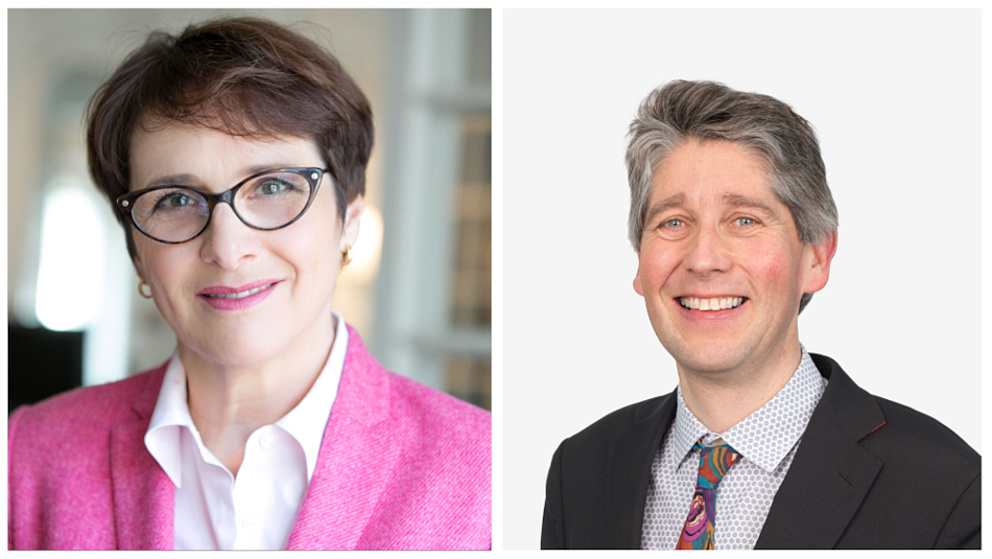 The French historian, Hélène Miard-Delacroix, and the British neuroscientist, Patrick Haggard, are the recipients of this year's Reimar Lüst Awards. The award is granted to international researchers in the humanities and social sciences who have helped shape academic and cultural relations between Germany and their own countries. Every year, the Alexander von Humboldt Foundation and the Fritz Thyssen Foundation grant up to two Reimar Lüst Awards, which are each endowed with €60,000.
Hélène Miard-Delacroix is a professor of contemporary German history and civilisation at Sorbonne University in Paris. She specialises in contemporary German history both in the political fabric of Europe as well as in the particular relationship between Germany and France. Thanks to her outstanding knowledge of Franco-German relations and the history of both countries, Hélène Miard-Delacroix is an important source of inspiration and mediator between the academic cultures of Germany and France. Amongst other things, she has written a highly acclaimed biography of Willy Brandt, uses a transnational, interdisciplinary approach in her research and is currently working on the influence of emotions on international relations. This constitutes a new emphasis in historical research on international diplomacy. As a Reimar Lüst Award winner, Hélène Miard-Delacroix intends to conduct research at the Leibniz Institute for Contemporary History in Munich.
Patrick Haggard is a professor of cognitive neuroscience at University College London. In his experiments, he investigates the cognitive processes that occur in people's brains during voluntary action. Moreover, he also studies how the brain creates a representation of an individual's own body as a physical object. An understanding of human action control is of great significance to other disciplines in clinical, legal and educational fields. His research therefore meets with broadly-based interdisciplinary interest and triggers philosophical debate: How and why do we experience a sense of control over external events which we direct through our actions? What is the relationship between will, action and responsibility? Patrick Haggard will spend the research visit associated with the award at the Berlin School of Mind and Brain which belongs to Humboldt-Universität zu Berlin and works at the interface of the humanities and behavioral sciences with the neurosciences.
For many years, the astrophysicist, Reimar Lüst, was a member of the Fritz Thyssen Foundation's Scientific Advisory Board and, from 1989 to 1999, was President of the Humboldt Foundation. In recognition of his life's work for international academic exchange, the Humboldt Foundation, together with the Fritz Thyssen Foundation, has been granting the Reimar Lüst Award for International Scholarly and Cultural Exchange since 2006.
Every year, the Alexander von Humboldt Foundation enables more than 2,000 researchers from all over the world to spend time conducting research in Germany. The Foundation maintains an interdisciplinary network of well over 30,000 Humboldtians in more than 140 countries around the world – including 61 Nobel Prize winners.