Contact
Press, Communications and Marketing
Tel.: +49 228 833-144
Fax: +49 228 833-441
presse[at]avh.de
Researchers influence people's day-to-day lives in many ways through their work. Conversely, the public's participation in research and innovation activities represents a means of incorporating social concerns into research – in a way that produces added value not only for science, but for society as well. Participation in research can be brought about using different ways of actively involving private citizens.
The potential offered by participation
The participation of private citizens in research – as individuals or in stakeholder groups – can, for example:
increase the diversity of points of view in research through the feedback provided on societal issues and standpoints,
expand our knowledge base with respect to, for example, practical knowledge and in the area of data collection, and thereby contribute to expanding existing data resources as well,
boost the degree to which innovation processes – from research and development all the way to actual use – can be integrated into society and thereby increase the prospects for their diffusion and application,
make it possible for private citizens to obtain sound insights into research and the processes research entails,
spark and intensify people's curiosity and interest in science and thus foster the development of a knowledge-based society, and
contribute to making research processes more transparent and open and, by doing so, to increasing societal acceptance of science.
In light of this, enabling participation in research and actively supporting it wherever it promises added value for science and society is an important focus for the Alliance of Science Organisations in Germany. At the same time, the following premises form the basis for the Alliance's actions:
Premises for participation
In keeping with Article 5 (3) of Germany's Basic Law (constitution) which guarantees freedom of science and research, the relevant researchers are always responsible for making decisions regarding the type and extent of participation and the degree to which the results of participation processes are taken into account in the research process.
Organising participation is laborious and binds resources which are then no longer available for other use in research. Consequently, participation in research should not be an end in itself and should promise added value for research and society which would justify the time and resources that scientists and private citizens would have to expend. In light of this, it is also important that participation measures be reviewed on a regular basis to assess their effectiveness.
Researcher involvement in fostering participation should be entrenched in the scientific reputation system as a generally recognised and, at the same time, voluntary activity within research. Assessments of this involvement in scientific selection processes should be based on the contribution it makes to the quality of the respective project or the project design.
Participation in research should not be expected to be the same in all fields of research or in all research projects. Concrete matters relating to day-to-day life such as preventive research for the benefit of society, controversial areas of application (such as the use of atomic energy), issues involving research ethics (such as regarding animal experiments or genetic engineering) and the optimisation of products, services and processes are often more suitable for participation measures than topics that are largely not relevant to everyday life, far from practical application or hard to understand such as pure mathematics research or quantum computing.
Forms of participation in research
Participation in research is many-faceted and can lead to various roles for private citizens. The implications of these roles must be taken into account before implementing any participation measures. Roles for private citizens can be categorised based on the three basic steps in the research process – planning, execution and dissemination.
1. Private citizens in research planning
Research questions are usually formulated by the scientists themselves on the basis of research done to date. In the process, researchers interact very closely with the political sector and society which establish funding policy parameters by developing research agendas and funding programmes.
The Alliance of Science Organisations welcomes science organisations offering interested citizens additional options for contributing ideas (in the form of research questions, for example) to research. This can be achieved via traditional networks and platforms as well as with the help of spaces for experimentation (such as real-world labs and maker spaces) or special formats for exchanges such as citizen dialogue and "Ideenlauf" (an initiative that invites ideas and contributions from individuals).
Of key importance here:
Researchers must be free to decide whether to take part in these types of participation formats and also to decide whether to take up ideas (such as research questions) from these participation formats and incorporate them into their research.
In those cases where citizens are included in scientific selection and decision processes, it should be ensured at all times that researchers continue to be assessed primarily on the basis of the quality of their scientific achievements.
Researchers will prepare citizens for their planned participation in research planning activities ideally by conducting introductory events and workshops in advance to convey the knowledge they might need (such as regarding research that has already been conducted in the particular field of research).
2. Citizens involved in carrying out research projects (citizen science)
Citizen involvement in research projects can extend from traditional forms of data acquisition (such as reporting the results of bird and insect monitoring activities, participating in guided sample taking) all the way to participating in research and the development of concepts of their own within a research project.
The members of the Alliance of Science Organisations in Germany support citizen science in a variety of ways as defined in their respective missions, promote citizen science projects, and participate in the continued development of citizen science in the German science system within the framework of the white paper "Citizen Science Strategy 2030 for Germany".
Of key importance here:
The type and intensity of citizen participation (such as involvement in data collection and analysis, research design) should be geared to the needs in the individual research field or research project and should therefore be defined by the respective researchers.
A larger role should be given to incorporating citizen science into research processes as an integral part of research and the funding instruments on offer should be anchored – both structurally and on a long-term basis – more firmly in the science reputation system.
Quality standards for science and research must be observed at all times. The Alliance member organisations therefore support the development of a good citizen science practice for research by, for example, developing guidelines, conducting complementary research on the effect of citizen science, and by carrying out evaluations and continuing and advanced training programmes.
3. Citizens in the dissemination of research findings
In light of the enormous increase in knowledge, many formats used for science communication focus first of all on disseminating research findings. Moreover, there are already numerous formats that are aimed at engaging with citizens. In its Ten-Point Plan on Science Communication (2020), the Alliance of Science Organisations in Germany committed itself to giving greater consideration to the recipient's perspective in order to ensure that its communication activities tie in more directly with people's everyday life experiences.
Participative science communication – in other words, examining the effects that research and its findings have on society and making use of feedback from various societal perspectives when transferring knowledge – can boost citizens' understanding for and confidence in scientific procedures and processes.
Of key importance here:
Participative science communication should, among other things, allow a creative and independent discussion and examination of research methods and findings by using new, experimental formats, utilise new media-based interactive offerings, take into account reservations involving scepticism toward science, and also allow emotionally effective dialogue elements.
Research findings should be prepared in a way that makes them clear and understandable in citizens' immediate day-to-day lives in order to get not only groups that are already comfortable with science but also target groups that are hard to reach involved. Research museums play a vital role in this connection.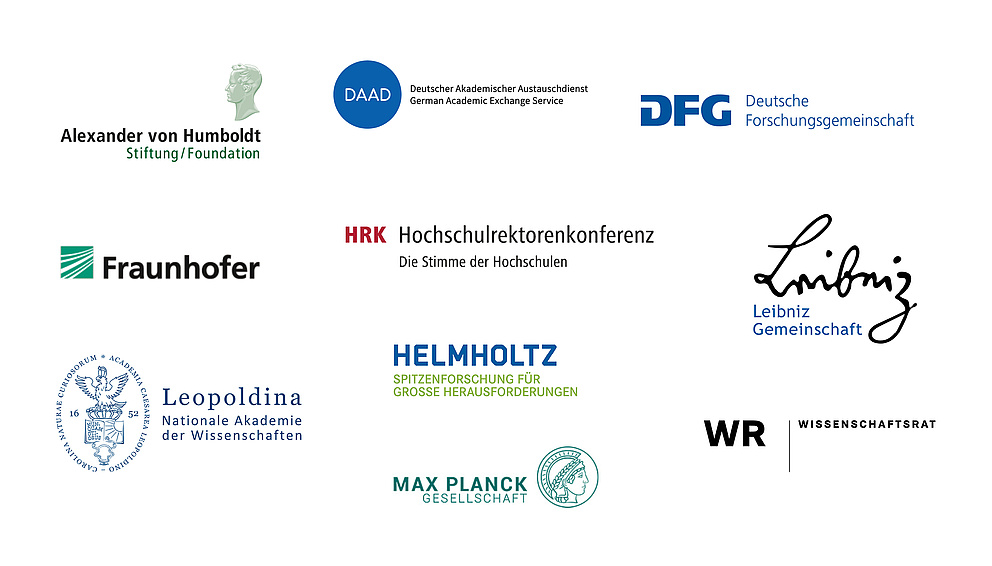 The Alliance of Science Organisations in Germany is a union of the most important science and research organisations in Germany. It regularly issues statements regarding important science policy issues. The Deutsche Forschnungsgemeinschaft (DFG) is a member of the Alliance and is the speaker of the organisation for 2022. The Alliance's other members are the Alexander von Humboldt Foundation, the German Academic Exchange Service, the Fraunhofer Gesellschaft, the Helmholtz Association, the German Rectors' Conference, the Leibniz Association, the Max Planck Society, the German National Academy of Sciences Leopoldina, and the German Council of Science and Humanities.
Every year, the Alexander von Humboldt Foundation enables more than 2,000 researchers from all over the world to spend time conducting research in Germany. The Foundation maintains an interdisciplinary network of well over 30,000 Humboldtians in more than 140 countries around the world – including 59 Nobel Prize winners.