Contact
Anna Oberle-Brill
GAIN Programme Director
oberlebrill[at]daad.org
+1 (212) 758-3223-217
(Please remember there is a time zone difference of -6 hours.)
Overseas networking meeting for German science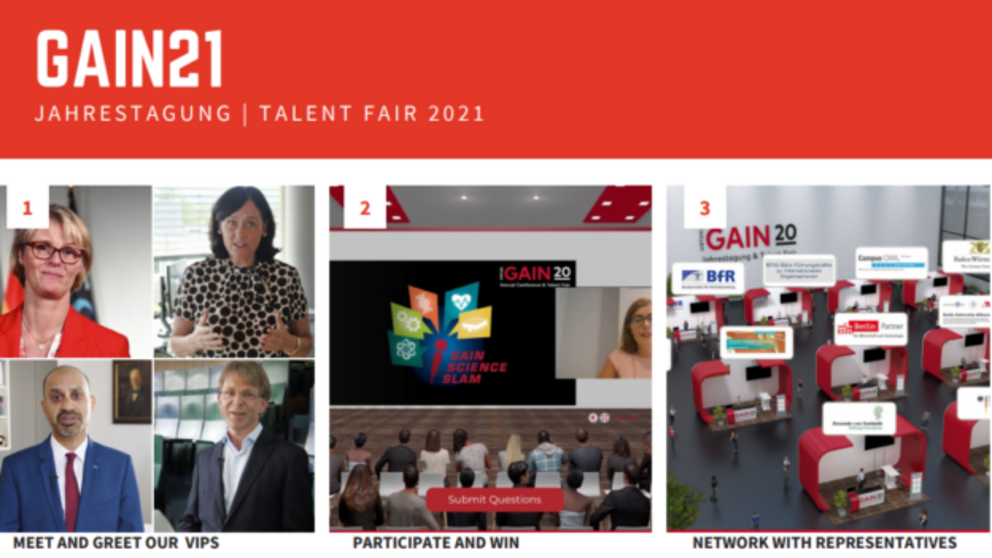 The German Academic International Network (GAIN) has invited all early career academics from Germany and international researchers to its 21st annual conference and Talent Fair from 25 to 27 August. The GAIN conference is one of the largest networking events for academic careers in Germany. This year it once again brought together researchers and high-ranking German representatives from academia, politics and business. Around 1,000 attendees were expected to take part.
Research Hub Germany took centre stage from 25 to 27 August at GAIN21. Hosted jointly by the German Academic Exchange Service (DAAD), the Alexander von Humboldt Foundation and the German Research Foundation (DFG), the conference was an opportunity for German and international researchers to access intensive advice and guidance on their future careers in Germany. The digital elements of this year's GAIN conference included information on a range of career stages. Attendees could find out about professorships at universities and universities of applied science and managing early career researchers, as well as making the transition into the research economy or founding a start-up. Additional workshops focussed on selected issues such as successful digital networking and sustainable academic mobility. Conference attendees could also gain insights into appointment processes and tenure track professorships. Over 50 research organisations presented career opportunities and current vacancies at their institutions in the Talent Fair. Academics and researchers also had the chance to hear from the three host organisations about the programmes they offer. As well as offering a wide array of information and advice, GAIN21 also showcased entertaining science communication, featuring a digital science slam where researchers presented the results of their latest research.
High profile guests and a view from Bonn
The conference has been opened on 25 August by the presidents of the host organisations: Prof Dr Katja Becker (DFG), Prof Dr Joybrato Mukherjee (DAAD) and Prof Dr Hans-Christian Pape (Humboldt Foundation), along with Federal Minister of Education and Research Anja Karliczek. Throughout the three-day event, representatives from the German Bundestag, universities, business and non-university research institutions were on hand to offer advice and answer questions from attendees.
Until 2019 the GAIN conference was always held in person, but even in its digital form it is attracting high levels of interest. Almost 1,000 people had registered for the conference and around 100 institutions had a digital presence at GAIN21. Another exciting innovation is planned for the 2022 GAIN conference, which will be held in Bonn. This will be the first time the largest networking event for academic careers in Germany will take place in Bonn, Germany. The conference will be aimed at doctoral students and postdocs from across Europe.
The German Academic International Network
The German Academic International Network (GAIN) is the network for German academics and researchers who work in North America and around the world. Since 2003 GAIN has offered a varied programme to help academics and researchers keep in touch with German academic institutions and assists with their preparations to return to Research Hub Germany. GAIN also offers academics and researchers a way of expressing their views to political decision-makers. GAIN is a collaboration between the Alexander von Humboldt Foundation, the German Academic Exchange Service (DAAD) and the German Research Foundation (DFG). It is funded by the Federal Ministry of Education and Research (BMBF). The Fraunhofer-Gesellschaft, Helmholtz Association, Leibniz Association, Max Planck Society, German Rectors' Conference, the German Academic Scholarship Foundation, and Deutsche Krebshilfe are associate members. Other partners from academia, industry and politics regularly support GAIN's work.
(Press release 15/2022)
Every year, the Alexander von Humboldt Foundation enables more than 2,000 researchers from all over the world to spend time conducting research in Germany. The Foundation maintains an interdisciplinary network of well over 30,000 Humboldtians in more than 140 countries around the world – including 61 Nobel Prize winners.