Contact
Press, Communications and Marketing
Tel.: +49 228 833-144
Fax: +49 228 833-441
presse[at]avh.de
Contact
Press, Communication and Marketing
Tel.: +49 228 833-144
Fax: +49 228 833-441
presse[at]avh.de
Humboldt alumni from China have collected donations to help Germany during the corona crisis.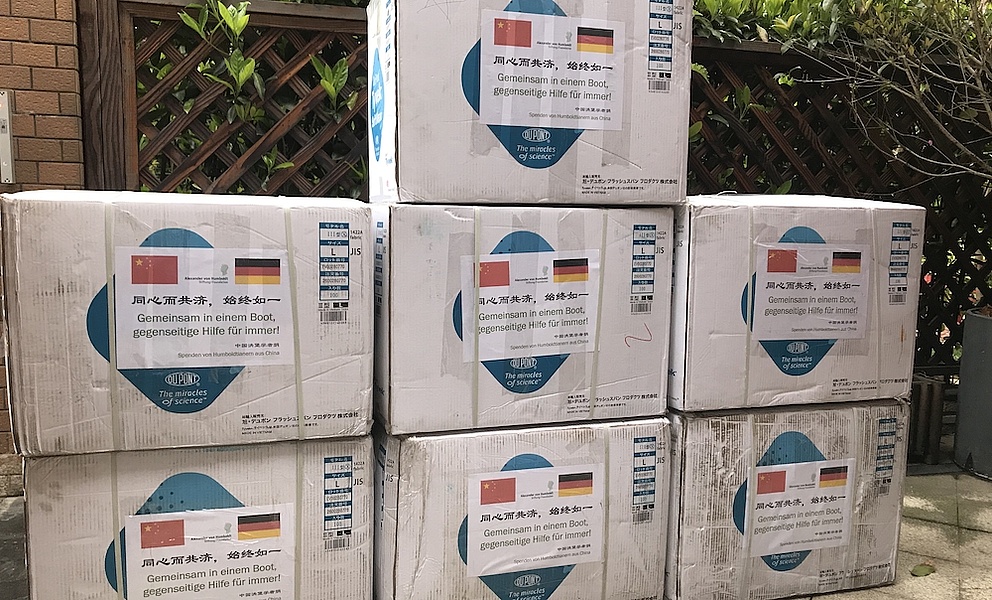 Chinese alumni of the Humboldt Foundation have collected more than 170,000 yuan (approximately €22,000) in donations. For this purpose, the German Consulate General in Shanghai set up a donations account. The money was used to buy protective gear which was donated to Germany's health ministry. The federal government is currently air-freighting it to Germany. In a letter to the Humboldt Foundation, one of the initiators, Professor Feng Xiaohu, explained the reasons for the fundraising drive: "Germany helped us a lot in the past and now it is time for us to return the generous help we received from Germany." The donation is a "thank you" from Humboldtians for the Alexander von Humboldt Foundation's sponsorship which represented an important phase in their careers, said co-initiator Aihua Zou.
"A wonderful sign of solidarity", commented Enno Aufderheide, Secretary General of the Humboldt Foundation, on the Chinese alumni's eagerness to help. The People's Republic of China is one of the Humboldt Foundation's most important partner nations and counts among the most successful countries in the Humboldt Foundation's worldwide network. To date, the Humboldt Foundation has sponsored more than 2,400 researchers from China. The alumuni's energetic assistance shows that, particularly in times of crises, concerted action and trusting international cooperation – like what the Humboldt Foundation fosters in its network – is vital.