Contact
Press, Communications and Marketing
Tel.: +49 228 833-144
Fax: +49 228 833-441
presse[at]avh.de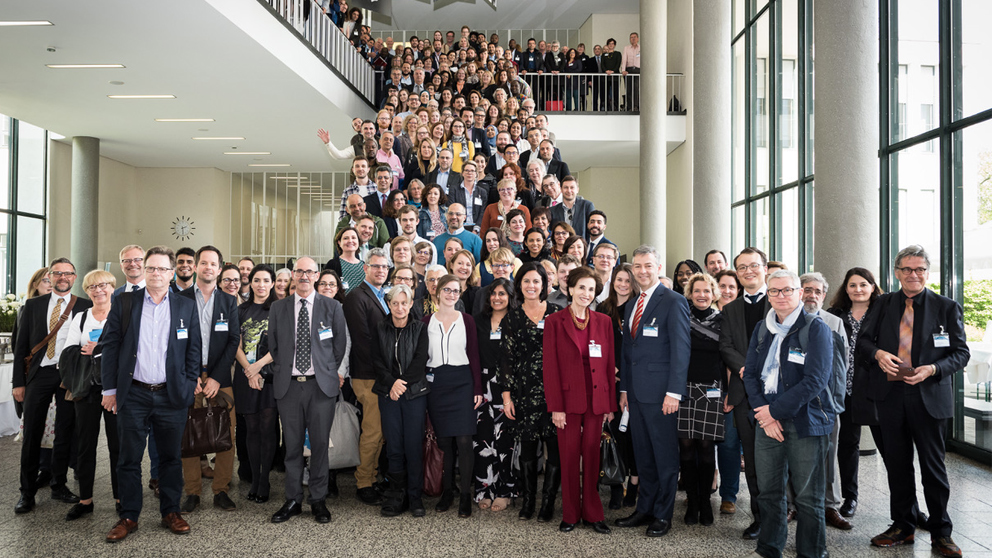 A joint press release issued by the German Federal Foreign Office and the Alexander von Humboldt Foundation
The International Conference on the Protection of Refugee Researchers in Berlin comes to an end.
Their home countries are blighted by war, their freedom of research is curtailed or they are persecuted: in many parts of the world, scientists and scholars are in danger. With its Philipp Schwartz Initiative, the Alexander von Humboldt Foundation helps researchers who have fled their countries to find a safe haven at German universities. The programme supported by the German Federal Foreign Office enables universities and research institutions to welcome threatened researchers as Philipp Schwartz Fellows. It has already allowed more than 100 scientists to continue their work after taking refuge in Germany.
The Alexander von Humboldt Foundation recently joined forces with the Freie Universität Berlin and its partner Scholars at Risk (SAR) to organise an international congress focusing on the topic of "The University and the Future of Democracy", which was held in Berlin from April 24 to 26.
When talking about the event, the German Federal Foreign Minister, Heiko Maas, explained, "Not only wars and crises, but also autocratic governments are increasingly curtailing the freedom of the arts, science and opinion worldwide. We are working to combat this with a foreign cultural relations policy that establishes and protects such freedom. The Philipp Schwartz Initiative stands for a cultural relations policy that guarantees protection for threatened scientists and scholars in Germany. With the support of members of the German Bundestag, we are working with intermediary organisations to additionally offer threatened artists prospects in Germany in future."
"With our Philipp Schwartz Initiative and gatherings like this event in Berlin, we are setting an example for the international mindset of academia in Germany that is visible on a global level," declared Hans-Christian Pape, the President of the Humboldt Foundation. "Our joint conference not only provided a fruitful exchange between German and international stakeholders but also represented a clear shared commitment to academic freedom," stated Pape.
The Philipp Schwartz Initiative is supported by the German Federal Foreign Office, the Alfried Krupp von Bohlen und Halbach Foundation, the Andrew W. Mellon Foundation, the Fritz Thyssen Foundation, the Gerda Henkel Foundation, the Klaus Tschira Foundation, the Robert Bosch Foundation, the Stifterverband and the Stiftung Mercator.
The Alexander von Humboldt Foundation
Every year, the Alexander von Humboldt Foundation enables more than 2,000 researchers from all over the world to spend time researching in Germany. The Foundation maintains a network of well over 28,000 Humboldtians from all disciplines in more than 140 countries worldwide – including 55 Nobel Prize winners.