Do join in!
We want to take this topic of diversity beyond the limits of the Humboldt Kosmos magazine. Let's talk about it! We look forward to sharing your thoughts or your own experiences on #ProgressDiversity.
When it comes to her research, economist and political scientist Anke Hoeffler is not easily thrown off course, almost as though she were following an inner compass. When she gets her teeth into a topic, no obstacles are too great. Tenacity was also required to establish her research topic within her discipline. Anke Hoeffler investigates the causes of violence and wars. "To do so, I rely on what I can prove and calculate statistically," she says.
It is her perception for topics of global importance as well as her persistence that recommended Anke Hoeffler to be a recipient of an Alexander von Humboldt Professorship. In 2019, she was granted Germany's most valuable research award that comes with funding of up to five million euros. She thus joins the ranks of 84 top international researchers to date (as of December 2020) whom the Alexander von Humboldt Foundation has brought to German universities under this programme since 2008. Part of the aim is to break up what are often antiquated structures in the German academic system and infuse it with new interdisciplinary spirit.
Anke Hoeffler is seated in a spacious sitting room with picture windows working on her laptop. It is the last days of the researcher's summer holidays in Oxford, UK, where she previously worked at the Centre for the Study of African Economies. She moved to Konstanz, where she is now a Humboldt Professor, with her husband and two sons back in January 2019.
"My life could have turned out quite differently at various points," she says, citing the example of her much acclaimed article "Greed and grievance in civil war" which she published together with the British development economist Paul Collier in Oxford Economic Papers in 2004. This paper played a major role in making Hoeffler one of the world's most frequently cited social scientists – whereby the text nearly wasn't published in a journal at all.
In the aforementioned paper, which became the cornerstone of her career, the development economist demonstrates that, ultimately, it is not political defects and social inequality that lead to civil war. Instead, as Hoeffler and Collier wrote at the beginning of the 2000s, it was much more important whether a civil war could be financed. Where there is no money, according to the results of her data analysis, there is no war either.
PROFESSOR DR ANKE HOEFFLER has been a Humboldt Professor at the University of Konstanz since 2019. She was previously a research officer at the Centre for the Study of African Economies at the University of Oxford, United Kingdom. Hoeffler has received financial support for her research from institutions like the World Bank and the European Commission. She is a member of the African Economic Research Consortium (AERC) and the International Peace Research Institute Oslo (PRIO).
If you follow the money trail, things get explosive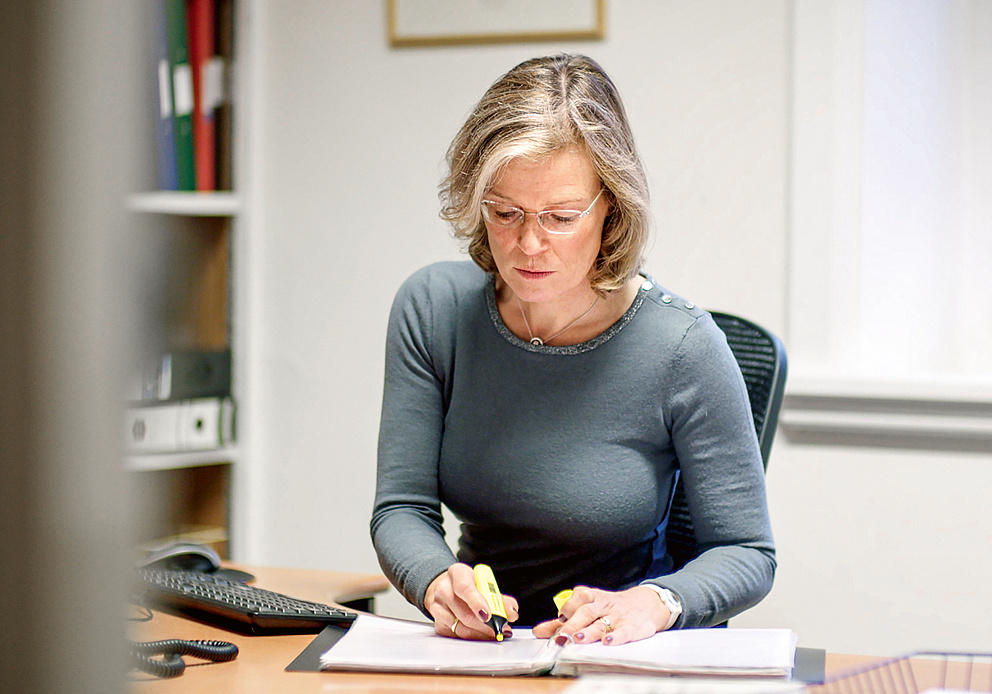 "Motivation on its own doesn't trigger wars," says Hoeffler. Basically, there are small groups of people who want to overthrow the system – in every country, Hoeffler claims. "Whether they really gain the power that could endanger the state depends heavily on their financial support," she explains.
But when you ask where the money for civil wars comes from, then it gets politically explosive. You end up, for instance, with organised crime. Frequently, other countries are involved, too. Proxy wars break out that would be impossible without external financing. This, Hoeffler says, is one of the reasons why it took her and her colleague Paul Collier five years to find a respected scientific journal that would publish their article. "Civil wars were simply not a topic for economic science."
Her tenacity also possibly helps explain why Anke Hoeffler is one of the few top women researchers to hold a Humboldt Professorship today. The Humboldt Foundation is all too painfully aware how low the percentage of female nominations and appointments in the programme actually is. Only 15 of the 84 Humboldt Professors appointed to date are women, despite the Foundation explicitly campaigning for female researchers to be nominated – also a familiar gender ratio in Hoeffler's discipline. "When I studied economics in Würzburg, there wasn't a single female professor," she says. She encountered the first woman teaching in academia in the UK in 1992.
As soon as free movement within the European Union became possible in 1992, Hoeffler grasped the opportunity and moved to London where she had enrolled for an additional master's degree in economics. Back then, she found German curricula far too narrow and inward-looking. She wanted to keep pace with research in her subject in the English-speaking world, which was setting the tone at the time. The fact that she is now returning to Germany is just a logical consequence of Brexit, she says. In leaving the European Union, the scope for research in the UK has been reduced.


Career despite family and part-time job
"When I was a student, I would never have thought twice about the dearth of female role models," Hoeffler remembers. "But when I experienced the first woman professor in London, I was pleasantly surprised." Hoeffler herself spent ten years of her research career working part time. For the sake of her husband's preeminent position, she took a back seat when her two sons were small. Another point in her biography at which everything could have gone wrong, she says. Part time did no harm to the quality of her work, but definitely did to her chances of getting on in academia.
"The fact I only worked part time and my job was completely financed by third-party funding meant that I never got a permanent position," Hoeffler explains. "When I tried to get a full-time job, many HR departments and colleagues just couldn't understand." In this respect, the Humboldt Professorship that is scheduled to last five years and culminate in a permanent position means a previously unknown degree of long-term planning security.
But, despite that, she doesn't have a recipe for increasing the number of women in top research, says Hoeffler. In her personal opinion, funding that is based solely on gender is suspect anyway. Instead, she wants to see much broader scope for diversity in the research sector. "There are many other factors apart from gender that can determine whether someone is successful or not," she says. A young man from a deprived area who is the first in his family to go to university could de facto find it more difficult than a woman like herself with an academic family background. Unfortunately, she criticises, diversity is still largely cosmetic at present. "We have to find new, inclusive ways of conveying knowledge – including the sort that discovers connections instead of just plumbing the depths. And we then have to test this knowledge differently."
Hoeffler's own research field has expanded significantly in recent years, but she has remained true to the topic of violence. In 2015, however, whilst conducting research on behalf of the United Nations for the UN's Sustainable Development Goals, she made a crucial discovery: it is not wars and civil wars that claim the most lives worldwide; vastly more people experience and suffer everyday violence. But neither policymakers nor civil societies consider what impact these supposedly individual cases and costs have on society as a whole.
Violence within people's own four walls is often overlooked
"If you just keep looking at civil wars, you forget that most of the countries in the world are peaceful," says Hoeffler. "What we also forget is the full extent of murder, manslaughter and domestic violence, which all have terrible consequences in peaceful countries, too." Domestic violence, in particular, affects women and children disproportionately. Twelve percent of women worldwide experience violence from their intimate partners. And, as Hoeffler discovered in her studies published in 2017, 311 million children are the victims of severe corporal punishment. That is 17.5 percent of children worldwide. The poorer the people, the higher the level of violence, her data analysis reveals. She has set herself the goal of calculating the costs resulting from everyday violence and interpersonal violence. She also wants to collaborate across disciplines with other researchers to elaborate solutions to eliminate the causes of this hidden violence.
Anke Hoeffler had planned the 2020 summer semester of her Humboldt Professorship at the University of Konstanz in minute detail. She was set to become the hub of a new Centre for Conflict Research and Development Policy, financed with the help of the award amount. But then came COVID-19 and put a stop to all that. "The opportunity to do my own field work in a whole raft of countries like Haiti, Ghana and Kenya was the great gift I was given by the Humboldt Foundation", says Hoeffler. But, at present, global travel restrictions have put an end to these studies.
Necessity is famously the mother of invention, so Hoeffler quickly turned her attention to investigating the effects of the global pandemic. Together with researchers in Helsinki and Berlin she developed an online study surveying people all over the world on how they were experiencing the pandemic. Within the first six months, nearly 12,000 people from more than 130 countries took part in the survey. It is the first assessment of the global mood in the crisis – and some of the results are surprising: Contrary to popular belief, the majority of young adults claim to observe the recommended precautions to protect against infection. The image of young people as thoughtless super-spreaders is thus refuted according to Hoeffler and her colleagues.
Less surprising is the finding that women, in particular, say they are affected by the additional strains within the family caused by the crisis. "It is also interesting that, globally speaking, most people say a vaccine should be made available in every country at the same time," Anke Hoeffler reports. "It's only in the United States that the majority is in favour of a vaccine being used there first."
In this research project, too, the economist has maintained a focus on violence. Many things suggest that the case numbers for domestic violence are increasing during the pandemic, she says. And again, it is probably women and children who are worst affected. Hoeffler wants to use a second questionnaire to investigate this aspect further. Amongst other things, she would like respondents to tell her how safe they feel at home during the pandemic in contrast to outside. Here, too, Hoeffler is tenacious. Even a worldwide crisis can't throw her off course.