Contact
Press, Communications and Marketing
Tel.: +49 228 833-144
Fax: +49 228 833-441
presse[at]avh.de
For the strategic design of its Human resource policy regarding families and phases of life the Humboldt Foundation has been awarded the "audit berufundfamilie" certificate for the second time. The Foundation's success reflects its staff-friendly implementation of favourable conditions for combining work and family life. Valid for three years, the certificate, which is considered a hallmark of quality for employers' policies in this area, is granted by the Board of Trustees of berufundfamilie Service GmbH under the patronage of the Federal Minister for Family Affairs, Lisa Paus.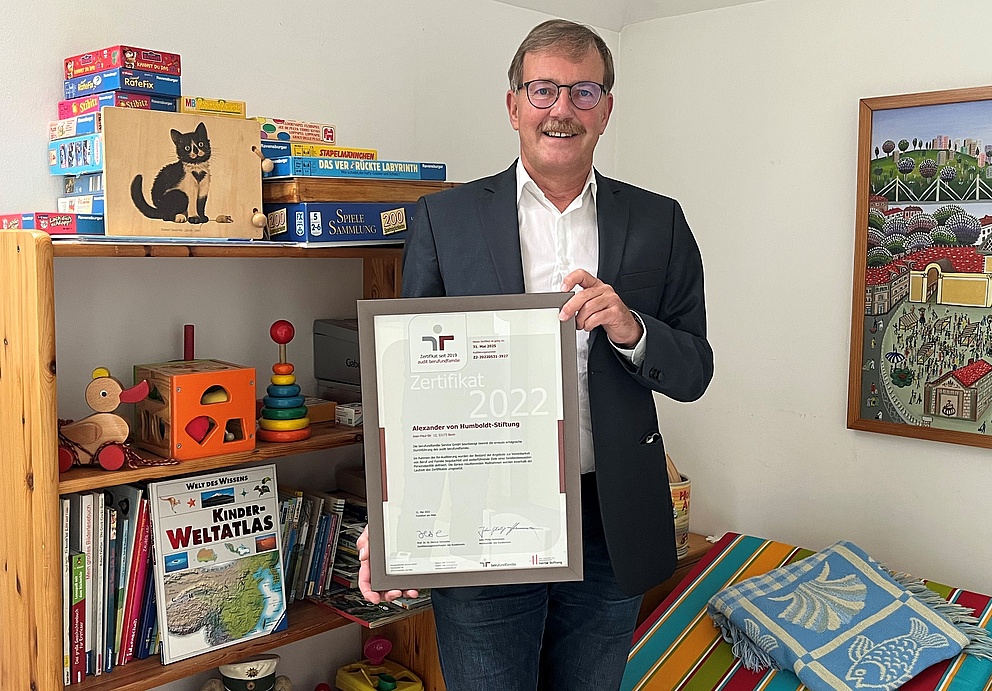 Commenting on this year's round of certificates, the managing director of berufundfamilie Service GmbH, Oliver Schmitz, emphasised: "When it comes to developing, implementing and utilising work-life balance packages, the Covid pandemic has once again sharpened our consciousness about how dependent we are on one another – on good relationships between employees and employers, and especially amongst the staff themselves. Mutual support and cooperation facilitate and reinforce robust solutions to the work-life balance and form the basis for a fair, healthy working atmosphere – particularly in times of upheaval."
After its initial certification in 2019, the Humboldt Foundation successfully tackled the new audit by examining its existing family-friendly measures. It focused on ways of offering emergency care and holiday care, providing staff with mobile working devices as well as on flexible working hours. Moreover, with its occupational health management and social advisory service the Humboldt Foundation operates additional measures to promote the work-life balance.
In addition to strategic goals, concrete actions were also defined during the re-audit. In the next three years whilst the certificate is still valid, they are now scheduled to be put into practice appropriately. Implementation progress will be monitored annually. The package covers continuing health-related offers, for example, further training activities using hybrid formats and extending flexible working hours. A recommendation for action on the "new normal" post pandemic is also included.