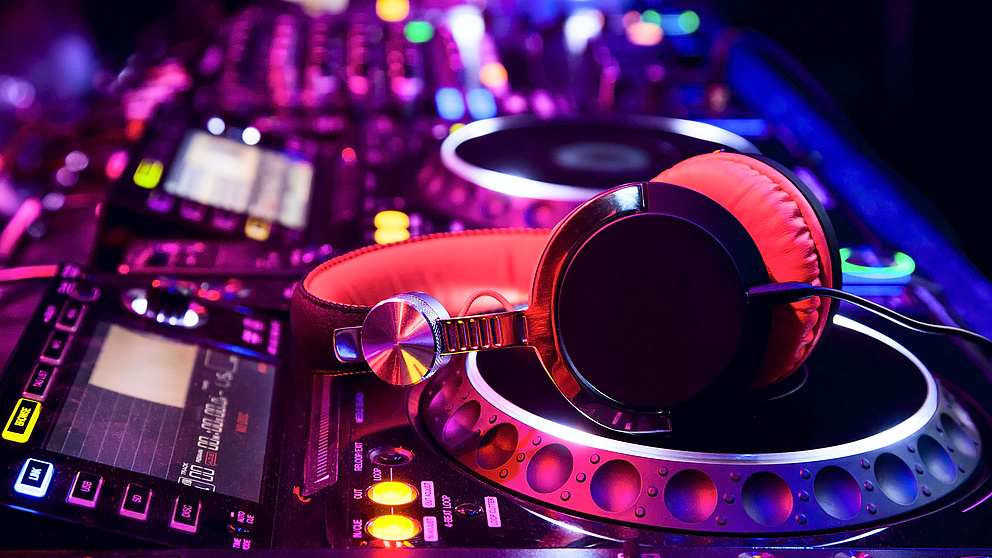 Contact
Press, Communications and Marketing
Tel.: +49 228 833-144
Fax: +49 228 833-441
presse[at]avh.de
Deserted dance floors, silent speakers, abandoned DJ consoles, stationary mirror balls – there has probably never before been such a dark, quiet New Year's Eve in the clubs around the world. German Chancellor Fellow Diana Raiselis was not able to dance the New Year in either. She is now doing everything in her power to ensure that the situation changes as soon as possible by designing safe, sustainable concepts for the nighttime economy. A former Chicago theatre director and a founding member of the Los Angeles Nightlife Alliance, the American has been in Berlin since October 2019. Her host during her fellowship is Lutz Leichsenring, executive board member and press officer of the Berlin Clubcommission, an advocacy group representing club culture. Diana's original plan: research and analyse Berlin night life through the lens of the UN Sustainable Development Goals' vision of environmental, social, and economic sustainability.
Relevant economic factor
On 13 March 2020, the lights went out in the approximately 300 clubs of the German capital—throwing an entire industry into crisis overnight. Despite the aid programmes that have been launched, many club owners and operators are in dire financial straits due to high rents and lost revenue. According to a study, which was conducted on behalf of the Berlin Senate in 2019, about 9,000 people work in the nighttime economy. They generate annual turnover of 170 million euros and attract some three million club culture tourists every year. Particularly in large cities like Berlin, nighttime culture is a relevant economic factor that is closely linked to other sectors such as tourism, hotels and catering.
"It was clear from the beginning that clubs would be some of the first to close and last to reopen. We had to act quickly," says Diana Raiselis. Initiated by her Humboldt host Lutz Leichsenring and the former Amsterdam Night Mayor Mirik Milan, she cooperated with people in more than 30 cities across the globe – including health experts, scientists, people involved in the nighttime economy – to draw up the Global Nighttime Recovery Plan (GNRP).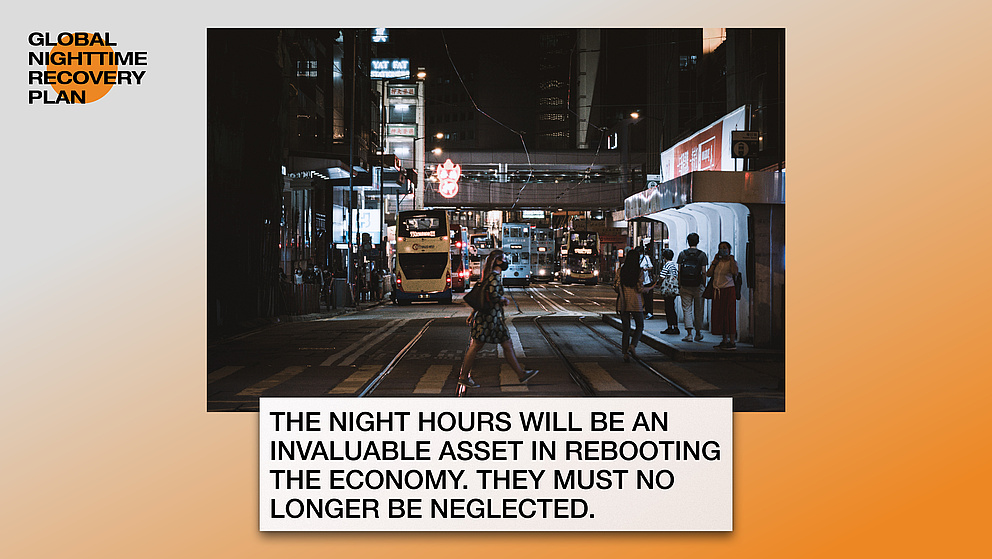 Safety First
In addition to economic concerns, the initiators' primary focus was preventing the spread of infection. As Lutz Leichsenring emphasised in a Twitter post, "Despite all the hardships Berlin club culture is currently experiencing, and despite the fact that we long to get together again to enjoy music and dancing, our top priorities are to comply with the Corona regulations and fight the pandemic."
What has emerged are collaborative guidelines and a practical first-aid kit for cities and nighttime-economy professionals, constantly being developed further. The plan contains short-, medium- and long-term considerations and strategies for reactivating nightlife during and after the pandemic as safely as possible. How can Corona-compliant events be held in the open or digitally? What kinds of outdoor events have proved feasible so far? How can operators pivot business models in response to restrictions? And what strategies can cities adopt to support their nighttime culture on a sustainable basis?
Alternative uses
Diana Raiselis and her co-authors gather case studies and answers to these questions. The event location Village Underground in the heart of London, for example, was used as a bicycle park for some time, the temporary business model being complemented by weekly bicycle repair courses run by experts from a local cycling café, and an integrated drinks supermarket.
In Berlin, some clubs provisionally transformed their outside areas into beer gardens, employing the relevant hygiene concepts. In the run-up to Christmas, Berlin's KitKat Club became a Covid-19 rapid test centre and Berghain turned into an exhibition space. Longer-term approaches include ideas like the 24-hour city strategy that is currently being implemented in Sydney. Late evening public transport running times are being extended, as are the opening times and options for event and concert locations. Thanks to some changes in the law passed by the government of New South Wales, bans on certain events like live entertainment in suburban restaurants and small bars have been lifted. Locations such as bookshops and hairdressers will also be able to become event locations in the future.
Basic human need
Diana Raiselis believes that the importance of nightlife goes well beyond simple fun and entertainment. She sees clubs as open and inclusive cultural spaces that can bring people closer together. These places have been important for her own development as well. "Salonathon, a weekly performance series and dance party at Chicago's Beauty Bar had a real impact on me. As a young and newly-out person, Salonathon was one of the first spaces of queer community I happened upon in Chicago, and it was so influential to my development as both an artmaker and an individual." For Diana Raiselis, it is crucial to recognise people's enormous need to interact socially and meet each other. "We miss each other. It is important that we keep creating safer ways to socialize, as restrictions allow. Bans tend to push gatherings underground or into less-safe spaces, with greater risk of transmission."
And she is determined to keep working on this. Her vision for post-Covid club culture: "I hope that we come out of this crisis more stable, more diverse, more creative and more inclusive as an industry. And even while digital club space may not substitute for the analogue experience – they are valuable in that they allow broader, more accessible participation in nightlife."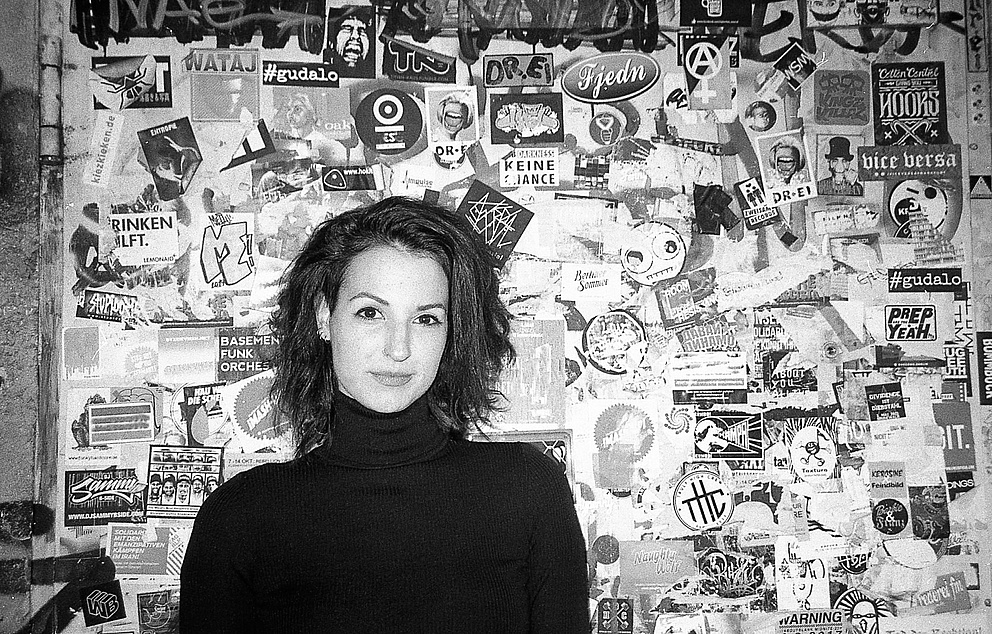 The German Chancellor Fellowship
We are searching the leaders of tomorrow. Are you a graduate with initial leadership experience? Do you come from Brazil, the People's Republic of China, India, the Russian Federation, South Africa or the USA? Would you like to implement your own project that is societally relevant, will have lasting public impact and aid you in your professional development? Then come to Germany with a German Chancellor Fellowship from the Alexander von Humboldt Foundation to take the next step of your career. The fellowship programme is under the patronage of the Federal Chancellor of the Federal Republic of Germany.
The German Chancellor Fellow Diana Raiselis
is a graduate of Northwestern University, Illinois, United States, and the Coro Fellowship in Public Affairs. She is a founding member of the Los Angeles Nightlife Alliance and has worked as a programme designer and facilitator in arts, leadership development, and civic education nonprofits. She has also directed plays for the Chicago theatre scene.
The project she is conducting in the context of her Alexander von Humboldt Foundation German Chancellor Fellowship originally focused on how collaboration between public, private, and civil society actors can support sustainable nighttime culture in cities. As a result of the Covid-19 outbreak, however, she was forced to rethink the focus of her project and incorporated the impact of and responses to the pandemic. As research fellow in residence with Berlin Clubcommission and VibeLab, she is now working with other stakeholders on the Global Nighttime Recovery Plan, developing sustainable concepts for the recovery of nighttime culture.
Author: Esther Sambale