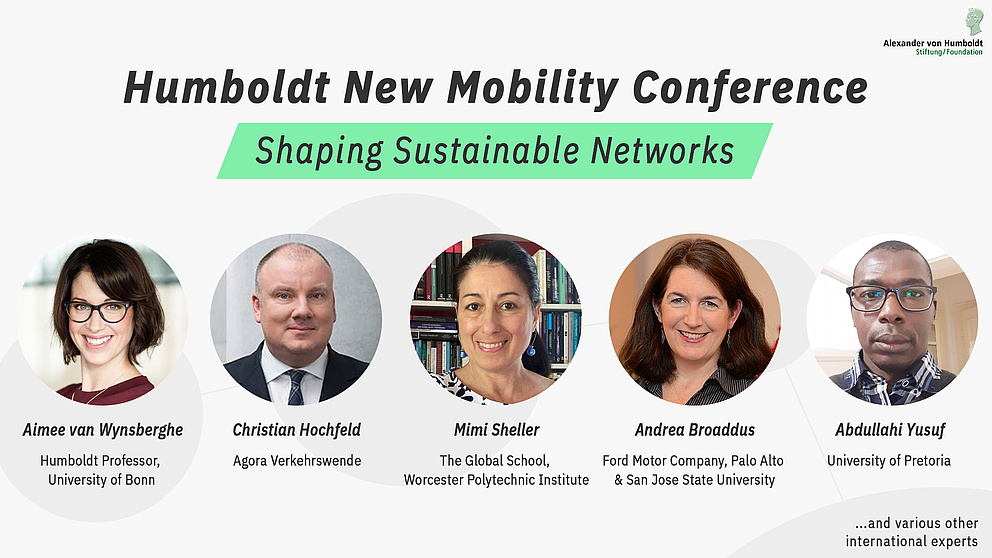 Contact
Press, Communications and Marketing
Tel.: +49 228 833-144
Fax: +49 228 833-441
presse[at]avh.de
Growing cities, increasing CO2 emissions and dwindling resources are fuelling the need for new forms of mobility - and raise urgent questions. How can climate protection, new mobility and social justice be linked and addressed as a joint undertaking? What will tomorrow's means of transportation look like? How safe will self-driving vehicles be? What demands will ageing societies place on mobility?
These are just a few of the questions that will be discussed at the 2021 Humboldt New Mobility Conference which approximately 250 members of the Humboldt Network are expected to attend. As part of its Sustainability Agenda, the Foundation aims to generate impetus for the mobility discussion during the two-day conference. Attention will also be directed to how the Foundation, the Humboldt Network and international research funding can be made more climate-friendly on a lasting basis. Specifically, the Foundation wants to address structural change and the question of whether and where physical mobility can be replaced by virtual mobility.
Interested journalists are cordially invited to attend.
The President of the Alexander von Humboldt Foundation, Hans-Christian Pape, will open the conference at 4 pm on 13 September. In three panel discussions, the conference's dialogue format will bring outstanding researchers from the Humboldt Network together with international mobility experts from industry and civil society o discuss various aspects of mobility. As part of these activities, Alexander von Humboldt Professor for Artificial Intelligence Aimee van Wynsberghe will sit down with the designated Alexander von Humboldt Professor and robotics expert Angela Schöllig on the second day of the conference to talk about the social and ethical implications of new forms of mobility, based on the example of self-driving vehicles. In addition to lectures and panel discussions on the subjects of "New Mobility and Climate Change" and "Virtual Mobility", the conference will also focus specifically on the future of research mobility.
Following the panel discussions, participants will have the opportunity to network and share opinions, information and ideas. The conference will be moderated by Anika Nicolaas Ponder. The conference will be held in English.
The programme is attached. If you are interested in attending, please contact presse[at]avh.de.
The Foundation's​​​​​​​ Sustainability Agenda links together ideas for shaping and organising a sustainable network, ranging from intensifying the sharing of information and ideas that target sustainability in the Humboldt Network, to promoting virtual mobility, all the way to implementing internal Foundation measures.
Every year, the Alexander von Humboldt Foundation enables more than 2,000 researchers from all over the world to spend time conducting research in Germany. The Foundation maintains an interdisciplinary network of well over 30,000 Humboldtians in more than 140 countries around the world – including 59 Nobel Prize winners.