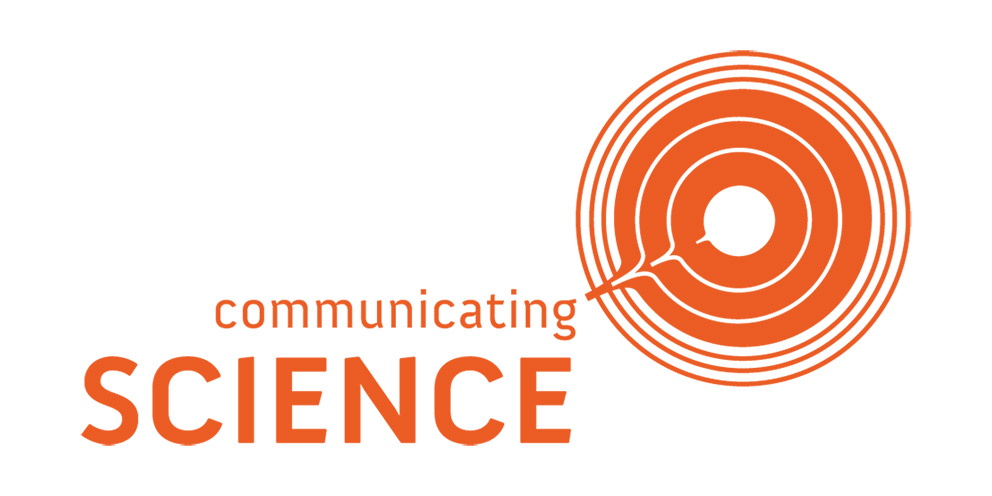 Contact
Dr Stephanie Siewert
Programme Director
Communication Lab
Alexander von Humboldt Foundation
Berlin Office
Markgrafenstr. 37
10117 Berlin
GERMANY
Science Communication?
BarCamp, Science Slam, PechaKucha, Meet the Scientist – the possibilities of science communication are manifold. In addition to classic science journalism, the growing number of different formats is increasingly raising awareness of research and is making it tangible and very entertaining at the same time. Science finds its way into our everyday life in the form of podcasts or TED Talks and via social media. But what makes a good format? What kinds of communication do different media cultures require? What is the relationship between science journalism and research? The International Summer School "Communicating Science" in Berlin from 2 to 6 August 2021 got to the bottom of these and many other questions.
Objectives, contents and target groups
Funded by the Federal Ministry of Education and Research within the context of the German EU Council presidency, the interdisciplinary event is aimed at doctoral candidates and postdocs for up to 6 years after completing their doctorate* who are currently and will still be doing research at European universities and/or research institutions during summer 2021 – regardless of their origin or nationality. (*excluding parental leave, sick leave etc.)
First of all, the participants will get an overview of the general conditions and communication cultures and deal with forms and methods of science communication. In interactive sessions, the acquired knowledge is deepened practically, and communication strategies are developed and critically examined from an intercultural and ethical point of view.
In the course of the Summer School, the young scientists will get to know the different formats that are available to them to present their research in a clear and entertaining way. After all, every method of science communication depends on individual preferences, strengths and interests.
In addition, the importance of strategic communication with various stakeholders is a focus of attention. Exciting keynotes from experts as well as practitioners from the science communication field will provide new insights. Subsequent discussion rounds offer ample space for questions and networking. Public evening events invite participants to experience various formats live.
On the basis of the knowledge and skills gathered, the participants will then formulate joint momentum that will serve to strengthen science communication throughout Europe and continuously increase awareness of it.
Results of the Summer School
On 6 August 2021, the participants of the Summer School "Communicating Science" handed over the first draft of their joint recommendations on the future of science communication to Dr Clemens Escher from the Federal Ministry of Education and Research (Germany). The proposal is intended to provide impetus for further debates within science.
The young scientists call for adequate funding, better education and training opportunities and more diversity and interdisciplinarity in the field of science communication.
Summer School Diary
What is happening at the Summer School "Communicating Science" in Berlin? We report on the exciting topics and the experiences of the participants. Here you can find news from the event – daily, from 2 to 6 August.
From afar it sounds like a bee hive, but moving closer it is 50 young researchers who have just started their five day workshop on science communication in Berlin. It feels like one of these "first time" experiences. After months of virtual fatigue, there is a person in flesh and blood in front of you, and the positive energy begins to fill the whole room.* The personal encounter is uplifting and inspirational. When asked what they expect from the summer school, the young researchers aim high: "How to reach people who don't care about science?"
This is the 100 dollar question for every scientist and communicator out there and the participants want to get to the bottom of this question. Yet connected to this aspect is another question: "Are researchers responsible for science communication?" Is it their job to communicate their findings? Yes and no – the discussions have just begun. Yet, when looking at the "wishtree" of the participants, there are other goals that might be easier to achieve in five days: "to overcome the initial nervousness" and "to boost self-confidence". And really, this is a good starting point, a first step towards becoming a great science communicator. It is something that we will work on the days to come!
*All participants of the Summer School are tested against Covid19 or have a proof of vaccination.
The first day ended with a murder mystery, a poem from the perspective of a plastic bag, a lyrical view on the scientific value of wastewater, a mini workshop on how to build a telescope and many more exciting topics. The variety of disciplines and perspectives summoned in the summer school is impressive and the participants have great ideas on how to present their research through different outlets. Some have already established their own cross-disciplinary networks for promoting science in society, such as the @Sci_Comm_Ladies or @sciencebasement.
The second day of the summer school ties in with initial reflections on effective communication strategies and looks at different options available: from digital tools to participatory formats. And one issue is present in all the aspects discussed: diversity in science communication. How can scientists sharpen their own awareness for diversity and cater to the different social and cultural realities and needs of their audience? But also: How can science itself become more diverse? The keynote speaker Jess Wade from the Imperial College London is an expert on chiral systems and committed to improving diversity in science. The studies on gender equality and diversity in science show that there is still a lot to do. Wade encourages the participants to take up action and use science communication to bring equality to the scientific community: "You have the power, you have the opportunity to empower someone else." And how can this be done? Wade suggests: "Think effectively and creatively about science communication!"
Already the third day of the summer school "Communicating Science"! Today the participants got useful advice from Philipp Schrögel (University of Heidelberg) and Josef Zens (GFZ Potsdam) on how to develop their individual communication strategies: What are their goals? Who do they want to reach? In a next step, these goals were put to the test. It was time for practical exercises in social media communication (Rebecca Winkels, WiD) and video production (Johanna Barnbeck). And again, researchers were reminded to think of their audience. But who is this "general public" they are expected to communicate to? It is very important to define the target group you want to adress as precisely as possible and to choose the instruments accordingly. The keynote speaker Sieglinde Gruber (former Directorate-General for Research & Innovation, European Commission) adressed the issue of how to engage the public from the perspective of the European Commission and focused on citizen science projects, when lay persons engage in science projects and actually become researchers themselves.
Equipped with theoretical and hands on knowledge, the participants entered the first brainstorming regarding their joint declaration on good science communication.
And talking about "getting to know your audience": The day will end with a public fishbowl discussion at the SO36 in Berlin on the role of young researchers in science communication. We are looking forward to a lively debate.
Fishbowl discussion
Science communication should be about the research and the scientist – this was one of the take-away messages of the fishbowl discussion. It is not only about communicating scientific findings but also about methods and processes, about the life and work of scientists. Science is hard work and society needs to understand how researchers come to their findings and that it takes time and resources to be a reliable source for the public.

In exchange with Georg Scholl (Head of Press, Communication and Marketing at the Humboldt Foundation), Markus Weißkopf (Managing Director, Wissenschaft im Dialog) and Sieglinde Gruber (former Directorate-General for Research and Innovation, EU Commission), the participants also dealt with other important aspects: How can we bring more diversity to science? And how can the humanities be integrated more strongly into the practice of science communication? Young researchers need to be empowered on different levels to enter science communication. It needs more training, advocacy for science communication, better funding but also recognition and attractive gratification systems. The participants of the summer school have many good suggestions on how to improve the situation for young researchers and they are already a good example for creative transdisciplinary and international collaboration – something that is needed and called for. We will take the food for thought into day four of the summer school.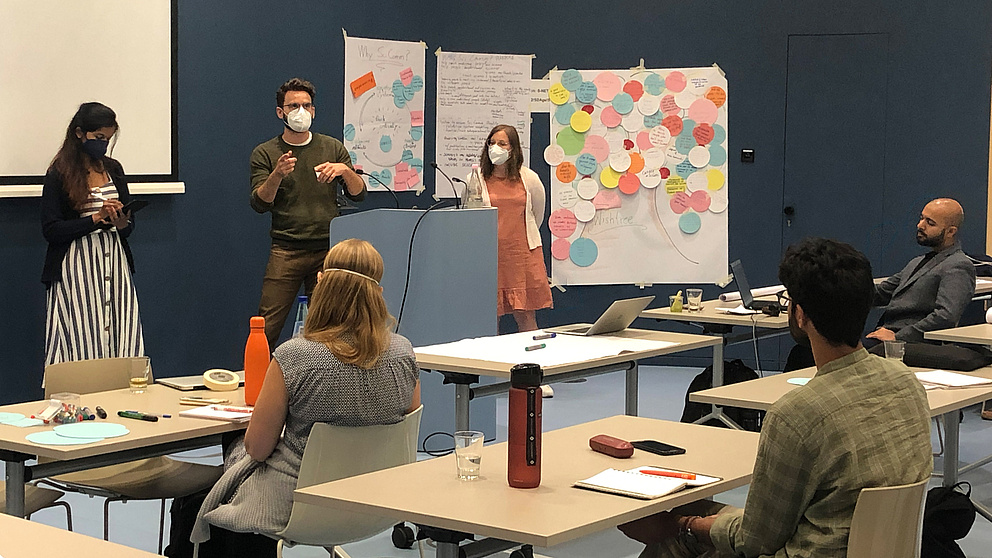 Chairs are moved aside, pens are pulled out and they get started. The participants' ideas find space on large sheets of paper. Soon one sheet of paper is no longer enough. The heads are smoking. Day four of the Summer School is all about collaborative work. In working groups the researchers develop their ideas for practical and visionary science communication. What are the focal points of their joint reflections? It's about promotion, training, quality assurance, interdisciplinarity, diversity, cultural change and new creative formats. And for all these aspects the participants find lots of good proposals for implementation. Science communication matters and the researchers have convincing arguments to make it a top priority of funding institutions, universities, scientists and society as a whole. Tomorrow, the first draft of the recommendations will be handed over to the German Federal Ministry of Education and Research. An ambitious undertaking? Yes, but when you have seen this group interact and felt their commitment, then you know that anything is possible.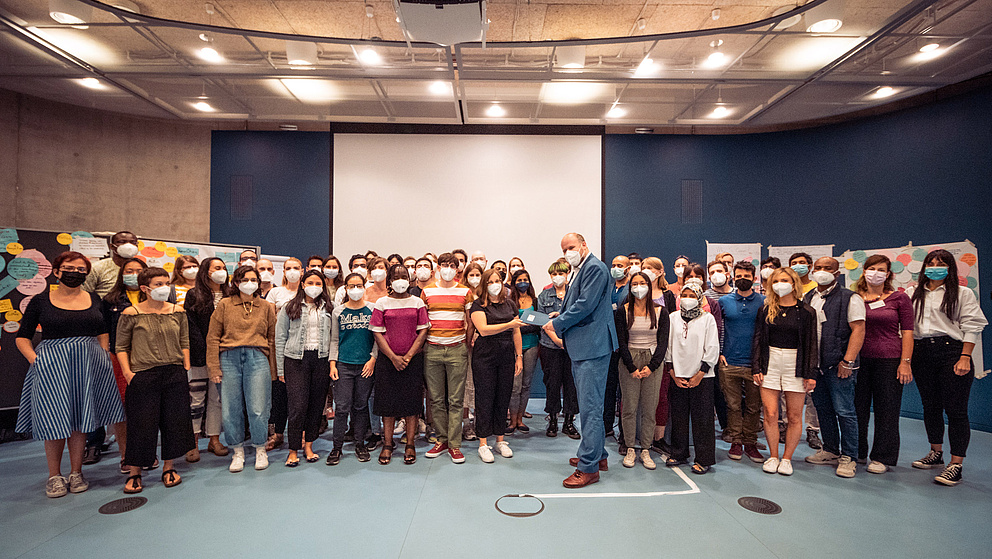 It has been quite a journey: Five days of input, debate and collaborative work, of practical exercises and mini workshops. Long days for everyone, but when you spend them among such inspiring people, time flies by. There was so much joy and laughter. And the expertise this group brought to the table was exceptional. How often - especially in these times - does one have the opportunity to exchange ideas about the dos and don'ts of science communication with 50 young researchers across national and subject boundaries? The joint statement is a testimony to the potential of transdisciplinary and intercultural cooperation in the field.
The working groups have developed reflections on the state of affairs for young researchers regarding funding, training, diversity, creative formats, cultural change, quality and purpose, and interdisciplinarity. At the same time they expressed their grievances and demands for effective science communication in the respective areas. What are the next steps forward in improving the situation of young researchers, to give them the freedom and flexibility they need to boost communication of and for science? While the declaration still needs polishing and some aspects require further discussion, the group is willing to come to a joint understanding and make a difference for the community of young researchers.
The first draft of the declaration was then handed over to Dr Clemens Escher from the German Federal Ministry of Education and Research. He thanked the participants for their commitment and their impressive work. Surely, the participants of the workshop will become or already are ambassadors of science communication. We are very much looking forward to the impact of the workshop in the near future and many great science communication projects that will come out of the summer school.
The International Summer School is sponsored by the Federal Ministry of Education and Research (Germany) and organized by the Alexander von Humboldt Foundation and Wissenschaft im Dialog.