Contact
Press, Communications and Marketing
Tel.: +49 228 833-144
Fax: +49 228 833-441
presse[at]avh.de
Deputy Secretary General Thomas Hesse was presented the "audit berufundfamilie" (workandfamily audit) certificate today by its patron Franziska Giffey, Germany's Federal Minister for Family Affairs, Senior Citizens, Women and Youth. The certificate singles out the Humboldt Foundation as a family-friendly employer that is aware of the different phases of life and deeply committed to ensuring a balance between the demands of working life and the demands of family life.
Altogether, 325 employers were honoured at today's award ceremony for the 2019 certificates where they were presented with the quality seal confirming their family-friendly personnel policies that take different life phases into account. In the last 12 months, these 171 companies and 131 institutions underwent the workandfamily audit offered by berufundfamilie Service GmbH. A further 23 universities passed the "family-friendly university" audit. The Humboldt Foundation is one of 55 employers that took part in the auditing process for the first time this year. The certificate is valid for three years.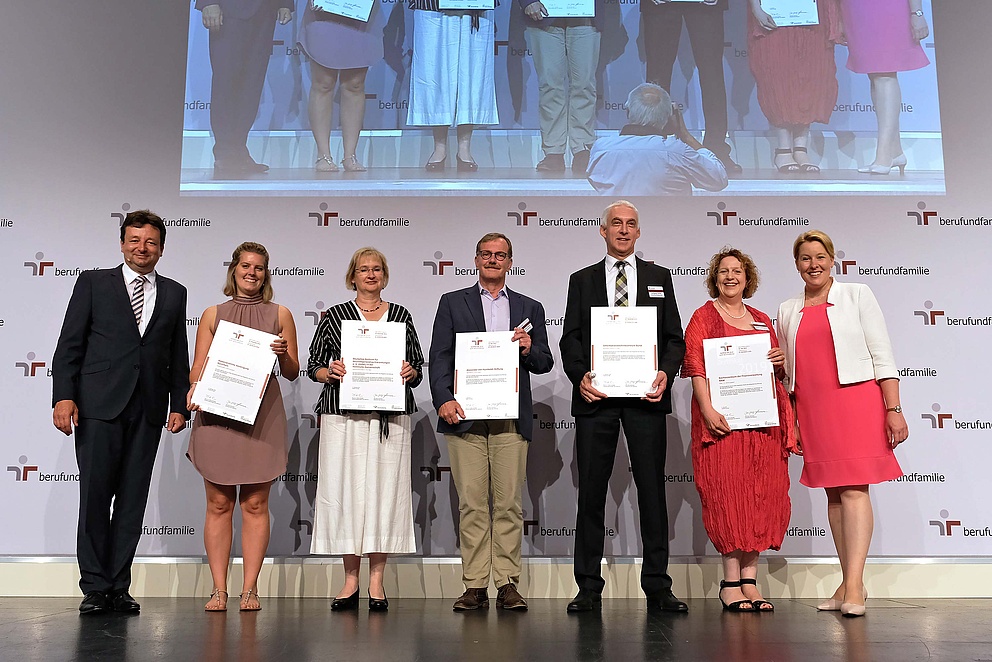 Patron Federal Minister of Family Affairs, Senior Citizens, Women and Youth Dr Franziska Giffey underscored at the award ceremony: "There are several factors that must come together in a best-case scenario in order to reconcile work and family life. Ideally, good, appropriate childcare options and financial assistance for families are augmented by family-oriented personnel policies in the respective company. This must be practised in day-to-day operations, in communication, in dealings between employees and management – for both women and men, in all phases of life and at all levels of education."
In order to help their employees balance the demands of family life with the demands placed on them by work, the certified institutions offer a number of options, including flexible working hours, teleworking, project-specific teleworking, an occupational health management system and social counselling, and commit themselves to continually optimising these measures.
The workandfamily audit and the family-friendly university audit are at the heart of the services offered by berufundfamilie Service GmbH. They are based on an initiative of the Gemeinnützige Hertie-Stiftung (Non-profit Hertie Foundation). The audit is a strategic management tool that helps employers design and organise their family-oriented personnel policies that take the various life phases into account / family-friendly research and study conditions in ways to ensure they are sustainable. Certificates based on the workandfamily audit were issued for the first time in 1999.