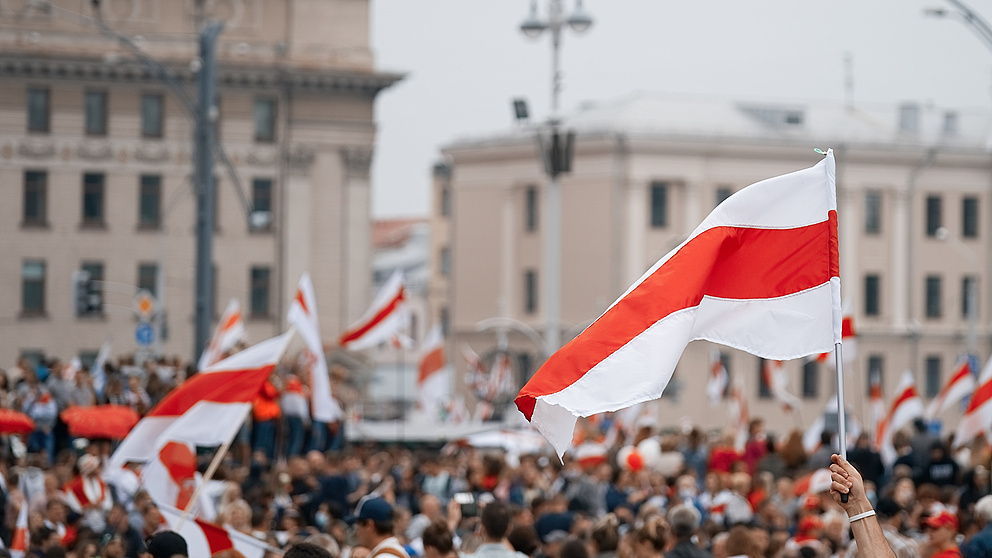 Contact
Press, Communications and Marketing
Tel.: +49 228 833-144
Fax: +49 228 833-441
presse[at]avh.de
At the Philipp Schwartz Inspireurope Stakeholder Forum being held from 26 to 27 April, experts will discuss repression and restrictions on academic and scientific freedom in various parts of the world, including Belarus. In the following interview, Volker Weichsel, editor of the Osteuropa journal published by the German Association for East European Studies, which is participating in the conference, offers an inside look at the dramatic situation there.
Humboldt Foundation: Ever since Alexander Lukashenko's disputed re-election in August 2020, the Belorussian authorities have cracked down on protests coming from the civilian population. What role do academics and researchers play in this protest movement?
Volker Weichsel: They play a major role. I'm speaking here of researchers from all disciplines − ranging from mathematics and biology, from history and economics all the way to linguistics and ethnology. Student and professors − and naturally mid-level academic faculty members participate in this. The regime has cracked down on them − like everyone in the protest movement − with extreme force. The more than 30,000 people who were arrested in autumn, often beaten and thrown in jail for two weeks, included hundreds, if not thousands of academics. Dozens and dozens of university lecturers have been dismissed on clearly political grounds, students have been expelled. The worst thing is that the authorities have started criminal proceedings against individuals for participating in peaceful protests. The courts which are answerable to the regime have categorised the protest marches as "mass riots" and are sentencing more and more people to long prison sentences.
The funding applications being received by the Philipp Schwartz Initiative mirror how things stand for freedom of science in certain countries and regions. Will Belarussian researchers have to seek refuge abroad in the near future?
They already are! The philosopher Olga Shparaga is just one of many. The repressions are extremely harsh. Dozens of researchers have lost their jobs. A large number have even left the country because freedom of science and academics is not just "at threat" − it simply no longer exists. Particularly in the humanities and social sciences, every deviation from state ideology, no matter how small, puts researchers and scholars at risk. Among those who have nonetheless remained at their universities, there is an atmosphere of silence and fear. Those who have left or who were fired are in great financial need and their research work is in jeopardy.
How does the government try to exert influence?
The rectorates are the regime's "control rooms". They receive instructions from the ministry of education. They work closely with the secret police, the KGB. Their method is straightforward: deterrence. Following all the arrests and dismissals, every researcher and scholar in Belarus knows what they will face when they do not do what the regime demands of them. The regime has placed members of the secret police in every university, every faculty, every institute, to ensure that this deterrence works.
Why is the situation in Belarus so important for you?
Freedom of teaching and research is of utmost importance all over the world. Nowhere in Europe has free research and teaching been made so impossible as in Belarus. And since freedom of teaching and research is indivisible, Belarus is sending a clear signal for all of Europe. Our commitment to the researchers and scholars there is a yardstick for how seriously we as a society take these principles.