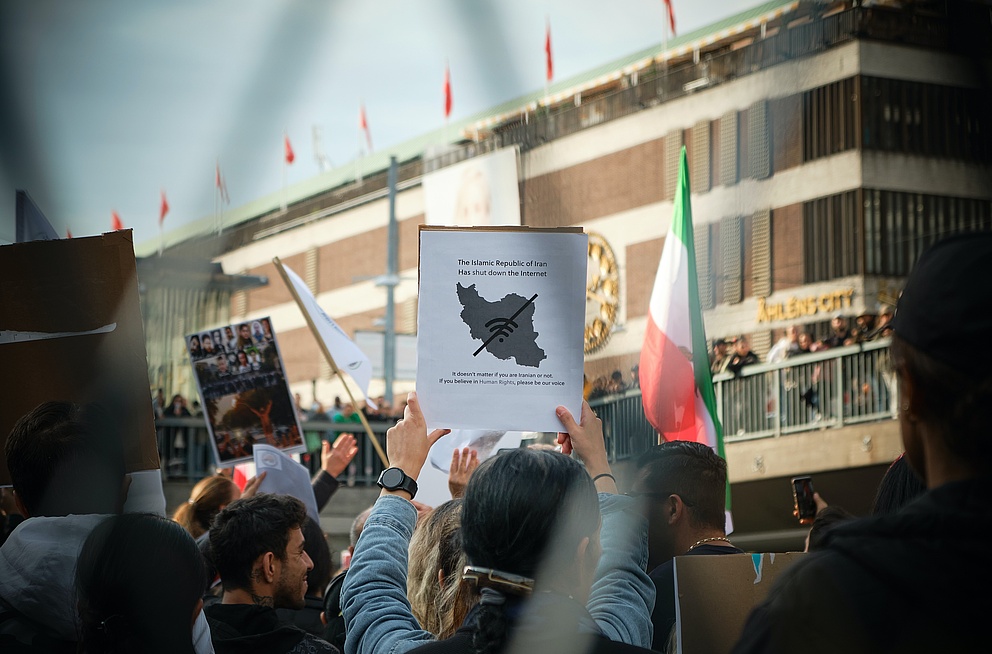 Contact
Press, Communications and Marketing
Tel.: +49 228 833-144
Fax: +49 228 833-441
presse[at]avh.de
Street violence between demonstrators and security forces, burning barricades, women setting their headscarves on fire. All chant: "Women, Life, Freedom". The social networks are full of videos showing such scenes from Iran. These protests were triggered by the death of 22-year-old Mahsa Amini on 16 September 2022. She had been arrested by the morality police because she was allegedly not dressed in conformity with the Islamic rules and died after falling into a coma under unclear circumstances. It is virtually impossible to verify the date and location of the videos. However, there would be many more in circulation if the internet was not controlled in Iran. The cultural scholar Raika Khorshidian who is currently conducting research in Germany explains which communication channels exist, what the outlooks are and the role that the art and culture scene plays in the current protests.
Internet service is often interrupted in Iran in order to hinder the organisation of demonstrations. How do you stay in contact with friends and relatives in Iran while you are in Germany?
The government currently shuts off the internet in Iran at 4 o'clock in the afternoon. It additionally throttles internet speed and blocks apps in an effort to control the spread of information. Prior to the present wave of demonstrations, most people used WhatsApp and Instagram. But now even the last social network available in Iran has been shut down. There are problems even beyond Iran's borders. I have several friends in Germany who have Iranian numbers and they have the impression that WhatsApp isn't working reliably for them.
How do you assess your own situation? Could this interview pose a risk for you?
Ever since you asked me for an interview about the current situation in Iran, I have been having nightmares about consequences I might face when I return to Iran with my husband and my children. But I'm not going to remain silent and retreat to my role as a researcher while millions of Iranians continue to experience the nightmare of being arrested and tortured. The Iranian people have become more courageous in recent years. Women in Iran are now removing their headscarves in full view of the morality police – despite all the dangers this entails. When I give an interview here, my risk of experiencing reprisals is presently smaller than the risks these women face. I must raise my voice so that there is a small ray of hope – for my dream of returning to a free Iran, for the dreams of the next generation.
Are the protests now about more than just women's rights but also around the country's economic problems? Where does the enormous self-assurance of the protesters come from?
It is clear that people are not simply protesting against the requirement to wear a hijab, but against a symbol for 40 years of repression at all levels of society – a symbol for more than 40 years of killing. The protests are presently no longer limited to major cities. They have spread to the smallest villages. The problem is not only the poverty in Iran but also the fact that people have ideas for their lives, but the regime does not allow them to put these ideas into practice. In recent years they have learned from social media that there are other Iranians with the same notions of freedom and they know what is going on in the rest of the world.
"For Minoo Majidi"
Collage by Sara Shoghi on the protests in Iran 2022
What does the situation in the science system look like?
From what I've come to know up to now, many university professors and students have gone on strike. Most recently, the regime arrested many of them and shot at the students. I'm very worried about the safety of the teachers as well. Twelve years ago, during the Green Movement which called for the removal of Mahmud Ahmadinejad following the presidential election in 2009, many teachers were fired based on false accusations and some even died during the protests.
Open protest therefore entails enormous risks: What role are creative forms of protest and the art and cultural scene playing?
In the area of art, I have found so many works of graphic art, cartoons and pictures that deal with the reprisals and deaths and that are shared over and over in social media. For example, several artists are using the hashtag "mahsaamini " on Instagram to document things that are currently happening. Every day, they post pictures of dead demonstrators in order to preserve their memory. These activities make visible initially unknown victims, like a 15-year-old child from a village in Urumie, and the spread of the protests in rural communities. The account holders might possibly have been arrested in the meantime because the authorities track down every visible sign of support for the movement to be found on social media.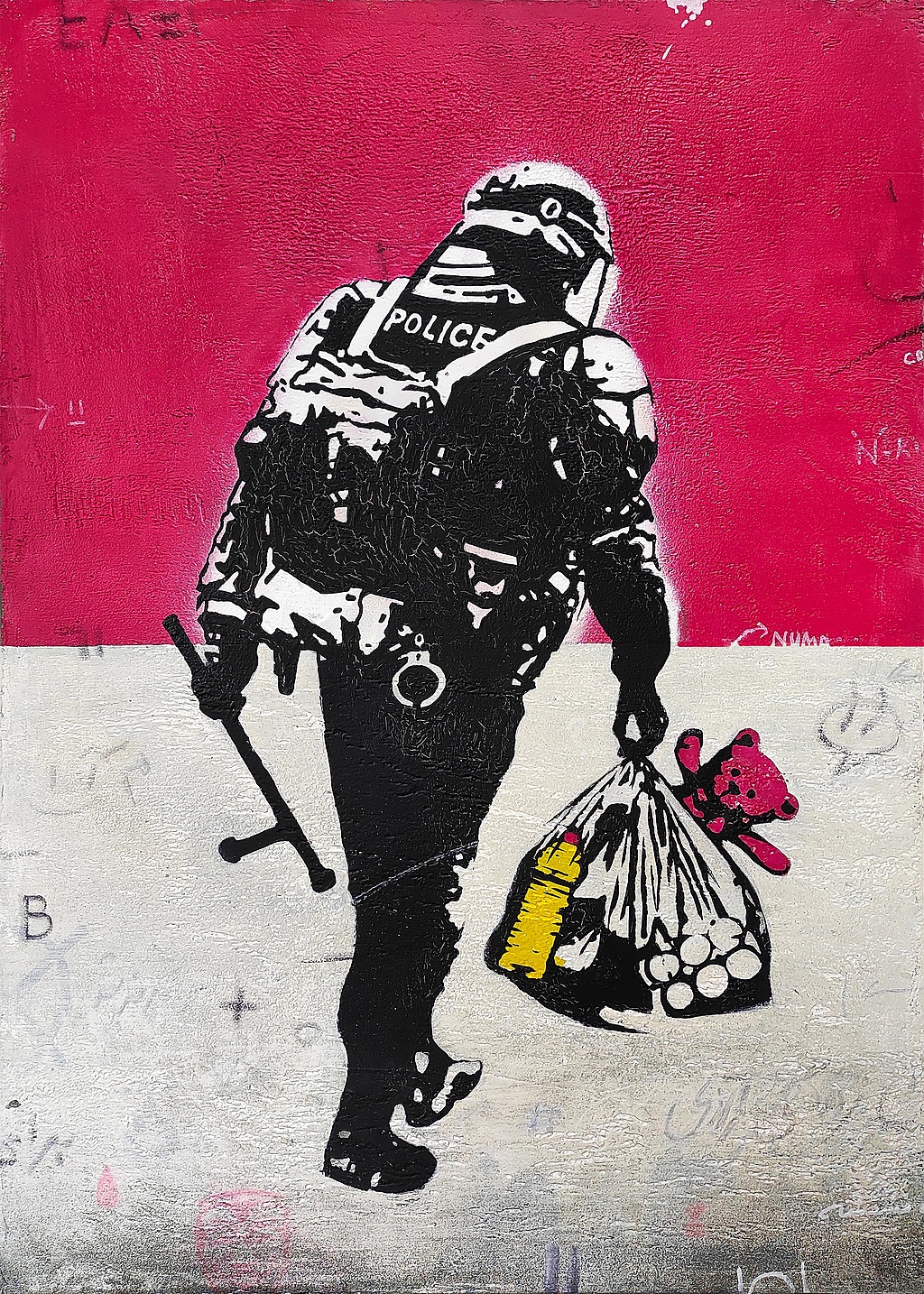 "The Last Scene"
Artwork by Amir Samavat about the protests in Iran (70 x 100 cm, mixed media and flexible cement on canvas)
Could the most recent waves of arrests mean that artistic freedom is being put to an end once and for all?
There are many people in Iran and around the world who want to show solidarity with the protestors in Iran – especially singers, actors and graphic designers, and painters. By demonstrating solidarity with their art, they are fighting the system. Some of them were arrested, like Shervin Hajipour whose protest song has become the soundtrack to the civil uprising. However, understanding most of artistic protests requires a clear understanding of artistic protest and the codes used. As a result, many censors do not recognise the messages being sent. They think within the confines of the logic of the dictatorship and, in many cases, cannot understand the various levels of a work of art. Even though restrictions on the art scene have been in place for years, many new art galleries have been established in the last five years. There people share their ideas with others and talk about their problems. Art galleries have become meeting places for activists.
What can the European Union – and the European science community in particular – do to support Iranian dissidents and civil society?
Financial and economic sanctions haven't restrained the government because when it doesn't have any money, it takes it from the people. Mere solidarity from other countries is not enough either. Many politicians have made statements regarding Mahsa's death but, at the same time, the Iranian president is able to travel to the USA and tell the entire world his opinion about the protests all the while he is having people killed in Iran. The movement decisively aims to change the corrupted regime and establish a secular government that does not threaten its citizens or other countries. There is no hope for reform and Iranians want the European Union to sanction the authorities of the Islamic Republic of Iran due to criminal activities. Over forty years, they attacked and killed Iranians in their homeland and the diaspora, kidnapped foreign nationals or those with dual Iranian-foreign nationality. If there is no global coalition to end this regime, these cases continue to occur.
Communication channels are crucially important. Which is why the news of possible support through Elon Musk and satellite-based internet gave many Iranians hope. Furthermore, scientific bodies in Europe like the Humboldt Foundation could specifically promote studies on blind spots and particularly such areas as history, politics, ethnography and sociology that have been neglected due to the regime's censorship. Freedom in Iran could change the futures of millions of Iranians – whether in Iran or abroad – and would also augur well for a more peaceful Middle East.
Most of the protests in recent years have focussed on societal matters. Are the current protests of a different quality as a result?
Twelve years ago, the Green Movement was concerned only with a change after an election; today the protests target the entire system. For the first time, the question is being widely asked, why is the regime being allowed to control people's bodies and minds? The government is trying to argue that men and women are different from one another and society would be less secure if women didn't wear a headscarf. But the fact is, society is secure and it is the morality police who is making it insecure. Today, women and men are striving together for women's rights and for the right to freedom. That is the biggest difference.
Iran's state-controlled media often show examples of protests in support of the regime and the actions of the morality police. What do you think of this?
I know there is pressure in some state organisations to attend these types of gatherings. I've also seen many photos that have been photoshopped so that gatherings to demonstrate loyalty to the regime appear larger than they actually were.
Many people still have the images of the failed pro-democracy movements during the Arab Spring and from Iran in their minds. Until now, nearly all protests have been put down after a while. Could it be different this time?
I'm a cultural scholar, not a politician. But there truly is hope this time because Iranians are raising their voices against the entire system. Furthermore, the people demonstrating don't have a leader. This makes the movement more complex and more difficult to suppress. People in Iran have been afflicted by poverty in recent years due to the incredibly high inflation there. But they are not taking to the streets because of this. Rather, they want freedom of choice for all women, for all of Iran's citizens. That is the beauty of this protest.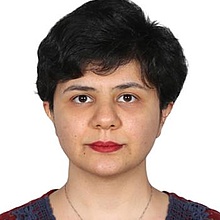 Dr. Raika Khorshidian is a Georg Forster Research Fellow at the University of Duisburg-Essen (2021-2023). Her research focusses on Iranian contemporary art, migration, and identity. In her project entitled "From National to Transnational Art: Displacement, Identity and Belonging in Iranian Contemporary Art", she has chosen the main concepts of place, estrangement, displacement, and multiple belonging to explain the transformation of Iranian artists' identities through an analysis of their oeuvres and biographies. From 2018 to 2021, worked as an artist and curator in Tehran. Besides, as an independent art journalist, she has published critiques and newspaper articles.During her PhD inArt Research at the University of Tarbiat Modares, Tehran, she conducted cross-cultural art-based research in Brazil, China, Japan, and Iran.