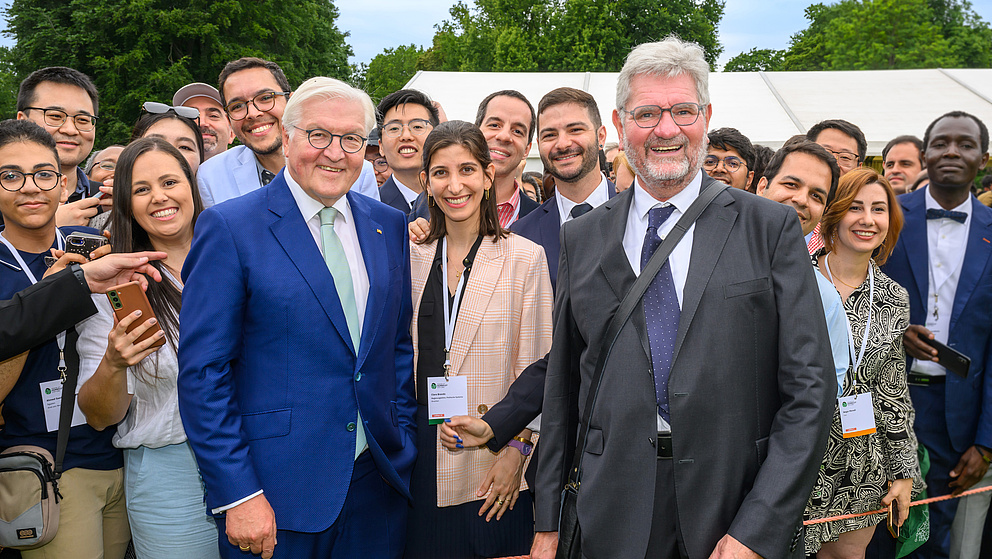 Contact
Press, Communications and Marketing
Tel.: +49 228 833-144
Fax: +49 228 833-441
presse[at]avh.de
To mark its 70th anniversary this year, the Alexander von Humboldt Foundation held its Annual Meeting under the motto "What's next?". The focus this year was on future prospects since the Humboldt Network makes important contributions to meeting the challenges posed by global problems such as climate change, the energy supply and issues involving security, democracy and human rights. President Frank-Walter Steinmeier congratulated the Foundation on its anniversary: "This morning you can see how inspiring the work of the Alexander von Humboldt Foundation is. And has been for 70 years. Congratulations!"
"Through you, an enormous amount of scientific expertise is coming to our country", President Steinmeier said as he welcomed the Humboldt Foundation Fellows from more than 80 countries who were guests in the park at Schloss Bellevue. He stressed how important international cooperation in all disciplines is in the search for solutions to the challenges of our time.
Alexander von Humboldt, the explorer and natural scientist the Foundation is named after, already recognised that everything is connected with everything else. For us, this means, "The entire world is of concern to us, the entire world must be of concern to us!" Steinmeier called for working each and every day for a better, sustainable and peaceful world and appealed to the researchers' obligation, "As researchers you are accustomed to not despairing − and have an obligation not to despair − in light of the complexity of the world, but rather to work on finding ways to deal with complex problems." However, he noted, this is possible only when individuals share and exchange information and expertise with one another.
The attending scientists had ample opportunity for this at the Annual Meeting. The afternoon was dedicated to lectures and laboratory and campus tours at Freie Universität Berlin.
During his reception for Humboldtians, Federal President Steinmeier presented the 2023 Philipp Franz von Siebold Award to the Japanese researcher Fumio Inagaki in recognition of his exceptional scientific work and his outstanding contributions to fostering exchange between Germany and Japan.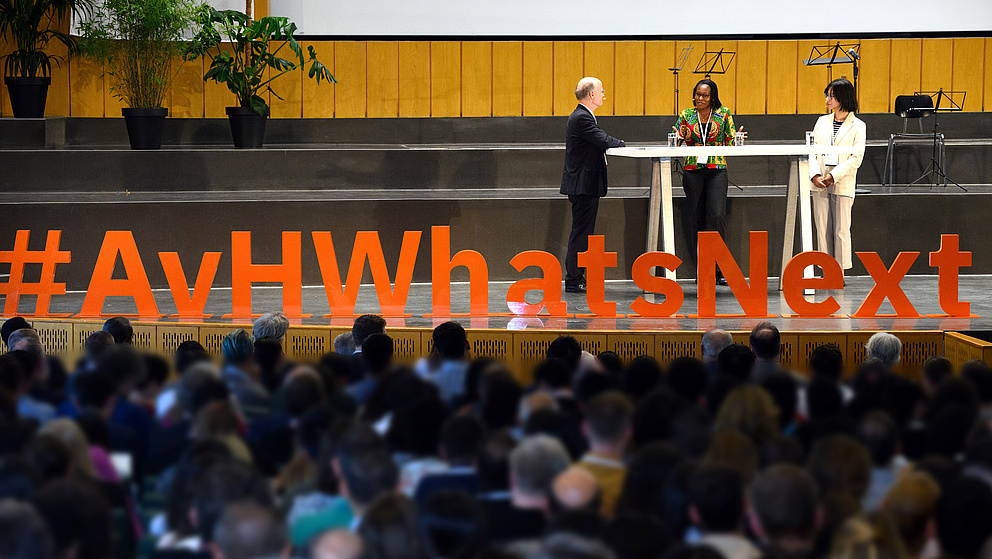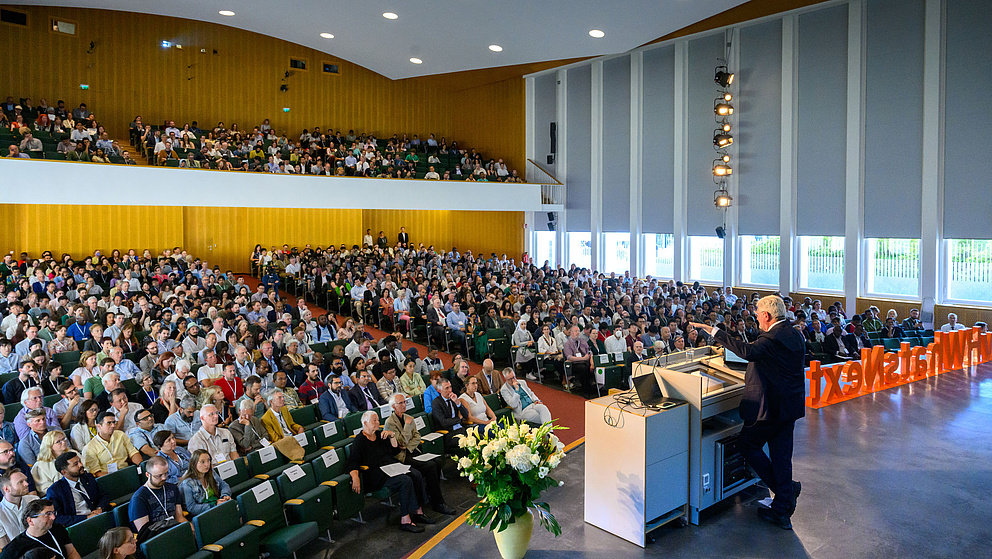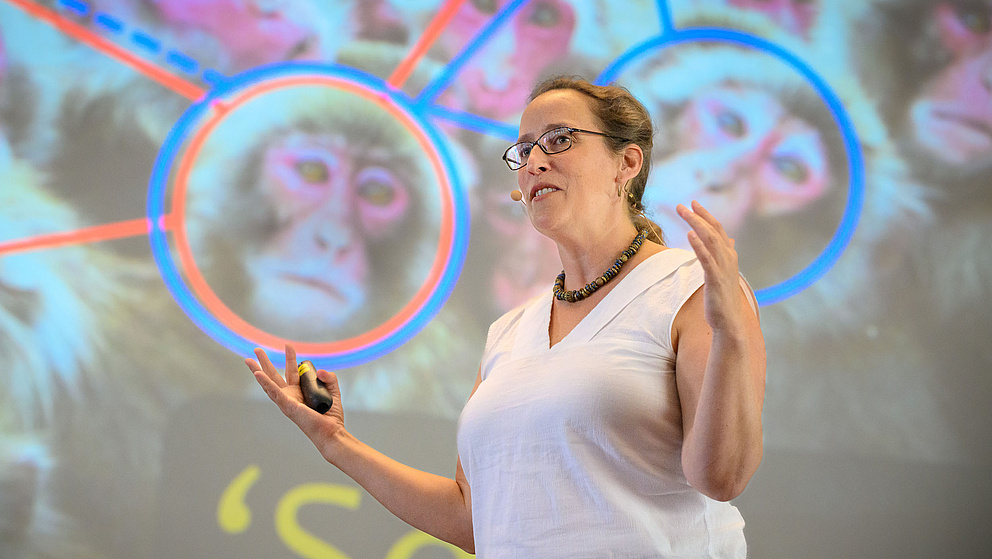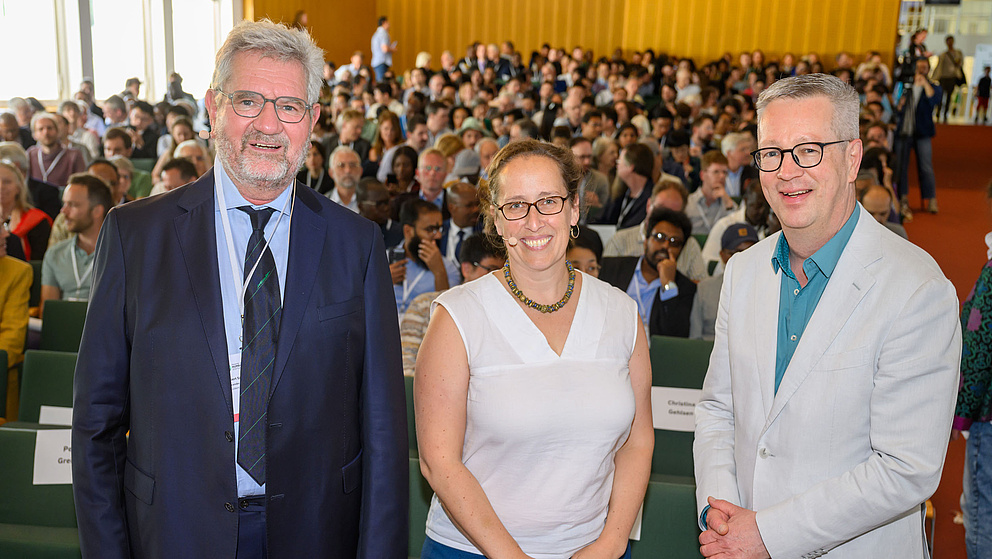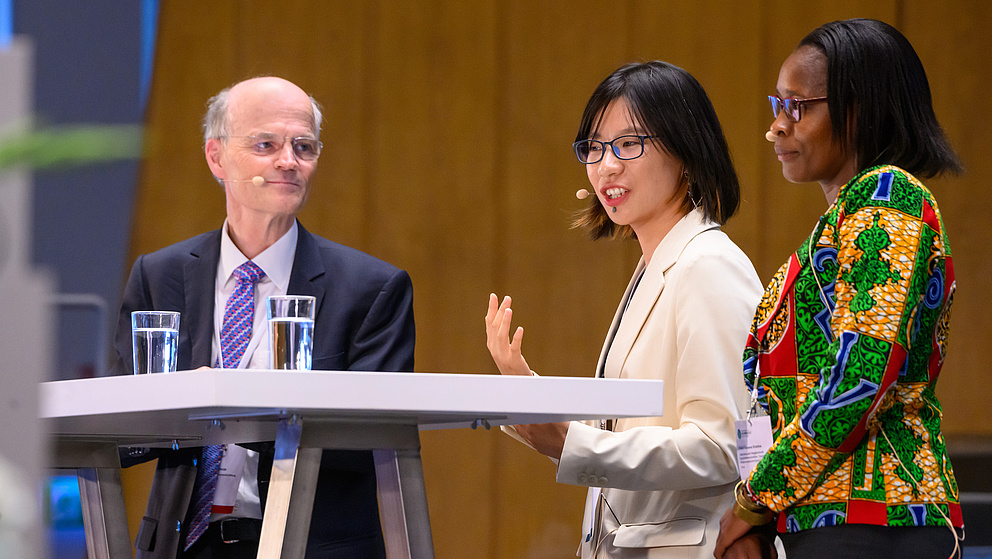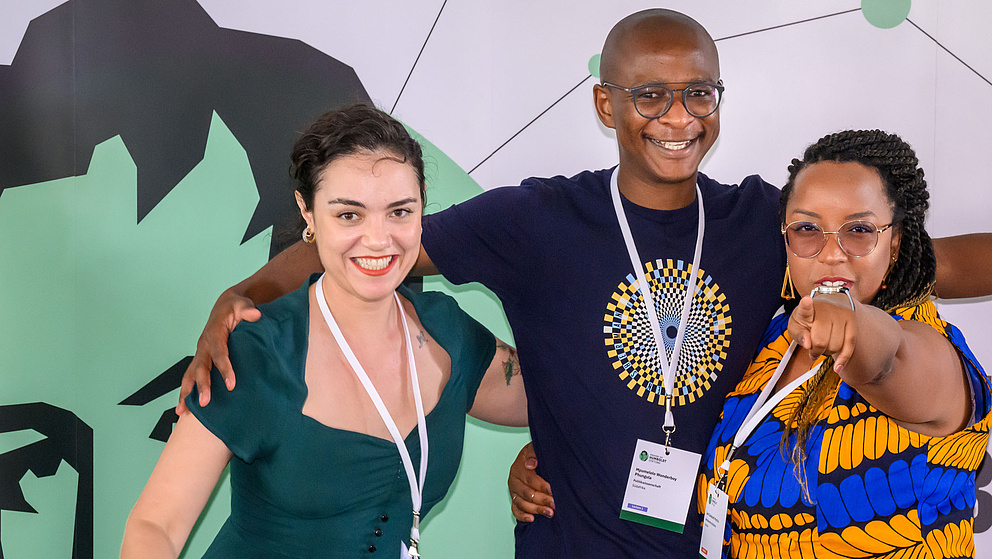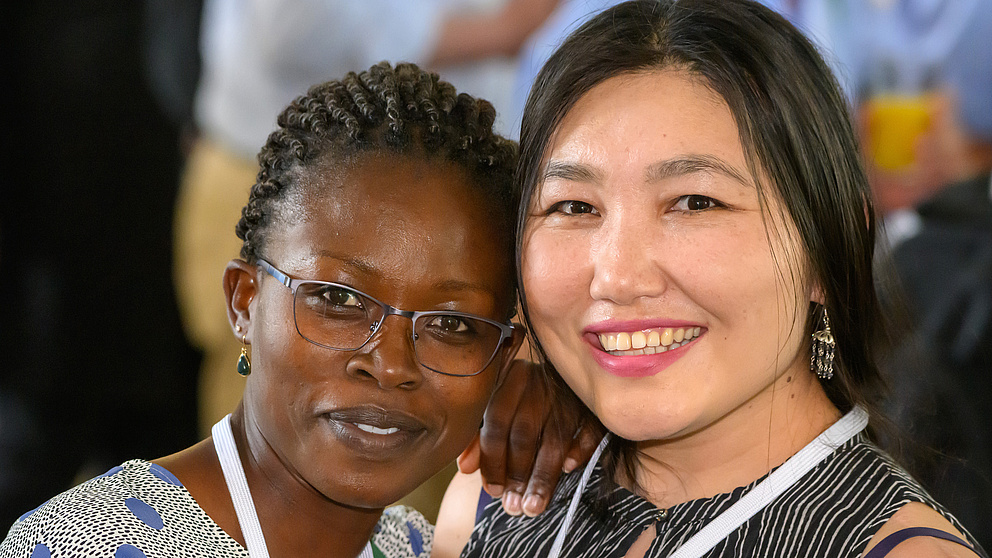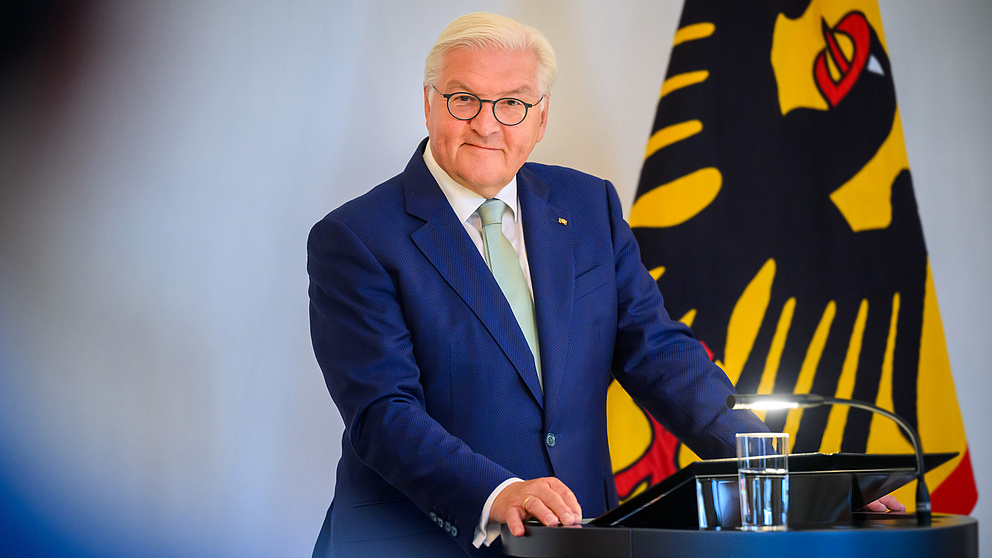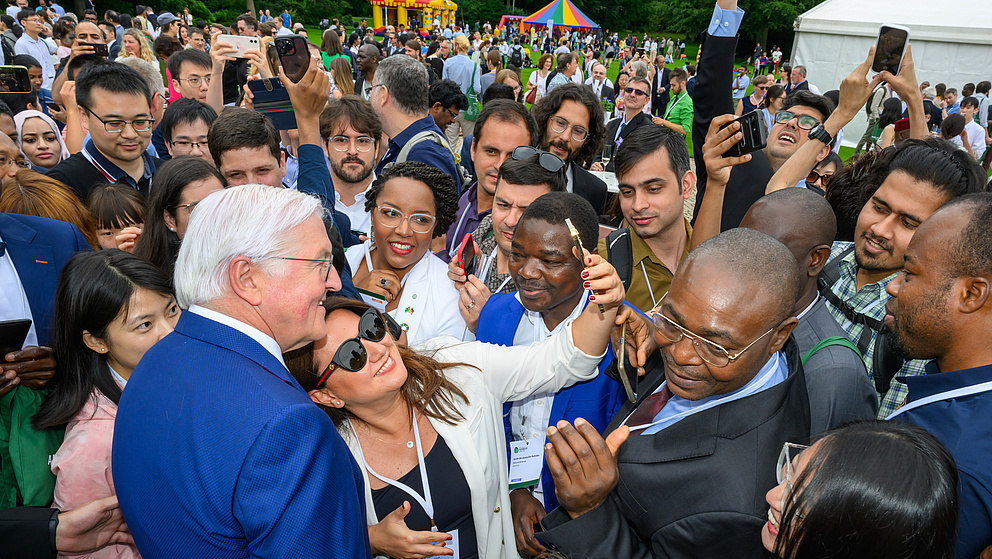 Robert Schlögl opened the Annual Meeting on the previous evening for the first time in his official capacity as the Foundation's new president. In his address, he also stressed the important role and benefits of international scientific collaboration. This is vital, he noted, not only for achieving advances in research, but also for science diplomacy which today is receiving increased recognition as a contribution to Germany's National Security Strategy. "An open and rational dialogue is one of the few remedies for conflicts", Schlögl said. His advice for the Humboldtians attending the event was: "Look forward to being a member of the Humboldt family. Together we want to push back the frontiers of knowledge and overcome the boundaries between cultures."
Schlögl had just returned that day from a trip to South Africa with Germany's Foreign Minister Baerbock. Among other things while there, he and the German delegation visited Humboldt alumni and were informed about research projects. Schlögl was impressed by the research projects currently being conducted there and called for promoting and making more use of the potential offered by African research and science.
The keynote address at the opening of the Annual Meeting on Wednesday evening was given by the behavioural ecologist and evolutionary anthropologist Professor Dr Margaret C. Crofoot, Humboldt Professor at the University of Konstanz and director at the Max Planck Institute of Animal Behavior, who spoke on social behaviour in baboon groups. Crofoot was awarded an Alexander von Humboldt Professorship in 2018 and has conducted research in Germany ever since.
Video of the opening ceremony for the Annual Meeting can be viewed here.
Every year, the Alexander von Humboldt Foundation enables more than 2,000 researchers from all over the world to spend time conducting research in Germany. The Foundation maintains an interdisciplinary network of well over 30,000 Humboldtians in more than 140 countries around the world – including 59 Nobel Prize winners.