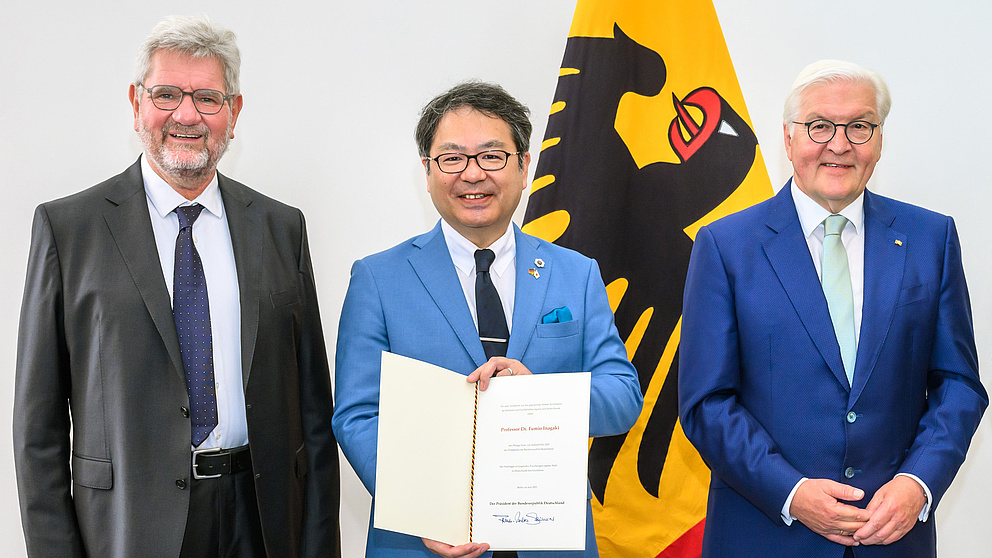 Contact
Press, Communications and Marketing
Tel.: +49 228 833-144
Fax: +49 228 833-441
presse[at]avh.de
Fumio Inagaki is a world leader in geomicrobiology. He explores the relationship between geochemical processes and microbial communities in the subseafloor. Both as a researcher and for his services to mutual understanding of culture and society in Germany and Japan he is now being honoured with the Humboldt Foundation's Philipp Franz von Siebold Award.
For many years, Inagaki has been making important contributions to promoting academic and cultural exchange between Japan and Germany: he has regularly welcomed German junior researchers into his lab, published together with researchers from Germany, held lectures in Germany and invited researchers from Germany to Japan. From 2005 to 2006, Inagaki was a Humboldt Research Fellow at the Max Planck Institute for Marine Microbiology (MPIMM) in Bremen. Since then, he has collaborated with many researchers in Germany, amongst others, at MPIMM, the University of Bremen, the University of Oldenburg, the Alfred Wegener Institute and the Federal Institute for Geosciences and Natural Resources in Hannover. As part of his Siebold Award, Fumio Inagaki plans to cooperate with the University of Bremen once again, specifically with MARUM, the Center for Marine Environmental Sciences.
Where are the limits to life?
As a researcher Inagaki has been seminally involved in many marine expeditions with German partner organisations. He has frequently made discoveries which have contributed significantly to our understanding of life under the seabed and its interactions with geological and geochemical processes.
He and his team have developed new methods for characterising and quantifying microbial communities in the subseafloor, such as conducting precise measurements of very low concentrations of microbial cells in seafloor samples. Inagaki was the first to demonstrate the connections between different microbial communities and geochemical conditions across great distances in the ocean.
On an International Ocean Discovery Program expedition conducting sediment drilling with the University of Bremen, the team managed to describe the deepest microbial life that had ever been documented at a depth of almost 2.5 km below the seabed. And they were able to measure a temperature record, too: even at a temperature of 120°C, microbes under the seabed still circulate carbon.
Most recently, Inagaki has investigated carbon capture in marine subsoil and its consequences as well the microbial potential for converting C02 into methane in marine subsoil habitats.
Fumio Inagaki has already received many accolades for his research including the distinguished awards of the Japanese Geoscience Union and the American Geophysical Union (2015 AGU Taira International Scientific Ocean Drilling Research Prize), the 2019 Copernicus Medal, awarded by the European Geosciences Union, and the 2021 AGU Fellowship. He is a fellow of the Geochemical Society and the European Association of Geochemistry.
The Philipp Franz von Siebold Award
The Philipp Franz von Siebold Award honours renowned Japanese researchers from all disciplines. It is traditionally presented to the recipient by Germany's federal president during the Humboldt Foundation's annual meeting in Berlin. The Philipp Franz von Siebold Award was established in 1978 by Germany's then Federal President Walter Scheel during a state visit to Japan. It is presented every year to a Japanese researcher or academic in recognition of outstanding contributions to improving a mutual understanding of culture and society in Germany and Japan. The award is valued at €50,000.