Contact
Press, Communications and Marketing
Tel.: +49 228 833-144
Fax: +49 228 833-441
presse[at]avh.de
What challenges are we facing? What makes us resilient both as a society and a science community? In global academic exchange, the Humboldt Foundation plays a special role as a generator of ideas. A bridge-builder between nations and cultures, it makes an important contribution to science diplomacy, driving the search for the best solutions in a fast-changing, complex world – a guiding principle emphasised by the new president, Robert Schlögl, at his inauguration on 14 March in Berlin.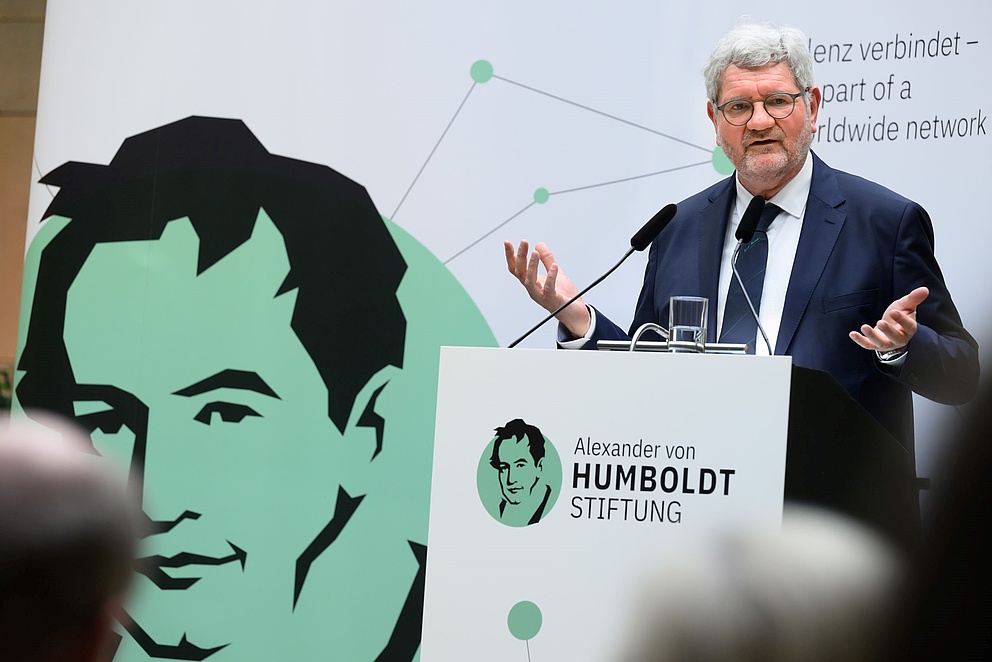 The zeitgeist and fashions change – in design language, too. As of 15 March 2023, the Foundation will acquire a new look that seizes on the notion of setting forth and hope. The new corporate design reflects the diversity of our international network and also demonstrates qualities that characterised our namegiver, Alexander von Humboldt: flexibility of thought and action.
What has actually changed? The image mark featuring the head of Alexander von Humboldt, the logo, colouring and fonts have been modernised. Based on the famous portrait of Humboldt, painted by Joseph Karl Stieler in 1843, the face of our namegiver has itself been given a new setting.
The Humboldt Foundation is embarking on its anniversary year with a new look, setting the tone for further highlights. You can look forward to the spring edition of Humboldt Kosmos magazine. Under the heading "Humboldt Foundation – What's next?" we introduce you to some of the Foundation's sponsorship recipients who are helping to address the major challenges facing society through their research and personal engagement. At the Foundation's Annual Meeting in June 2023, we will also pick up on the anniversary and discuss the pioneering research being conducted in our network.
If you have any questions about the new design or need information about availability (download), please contact presse[at]avh.de.